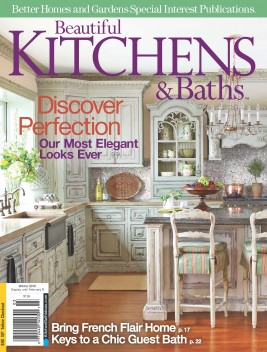 We were thrilled to see one of our kitchen designs as the cover story of the Winter 2010 issue of Beautiful Kitchens and Baths®. We're showing the cover here and you can see the full story on our website. (Reprinted with permission from Beautiful Kitchens and Baths® magazine. © 2010 Meredith Corporation. All Rights Reserved. On sale everywhere magazines are sold through February 8, 2011).
The kitchen is also showcased as one of the featured homes on our website. Located in Sherborn, MA, much of the home's interiors, and the kitchen itself, were designed by homeowner Kim Dacier. For the kitchen, Kim and husband Paul worked with builder and Habersham Kitchen and Bath designer, Ed Tarca of E.W. Tarca Construction located in Hopkington, MA
"We didn't just want our kitchen to look good, we wanted it to feel good. This is where friends and family gather to share the moments of the day and make memories for the future," said Kim. "The artistry of Habersham has created an environment in our home that immediately takes us to our favorite places in Europe. "
Kim and Paul have built a stunning house that takes its inspiration from the grand mansions and country homes of the chateaus and villas of France, Italy and Spain. "Our love of traveling in all the Mediterranean regions gave us the vision of building something rooted in centuries of rich history and old-world traditions," added Paul.
Visit our website to see the full Featured Home story and complete Beautiful Kitchens and Baths® article.