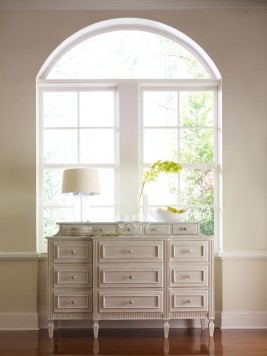 This month, our website "Featured Product" is the new American Treasures ® Fairmont Chest. One of many copyrighted furniture designs in our new American Treasures collection, this design offers a perfect blend of simple elegance and style.
Fourteen drawers provide plentiful storage space for linens, tableware and other items. And, simple design lines and a soft, hand-styled finish create a casually elegant accent.
Like all pieces in the collection, the Fairmont Chest is at home in traditional estate design and modern retreats alike.
What's more, all the transitional designs in the American Treasures ® collection are available in a full range of hand-styled finishes so you can create a look that perfectly reflects your own sense of style. Visit our site to see other great new styles.