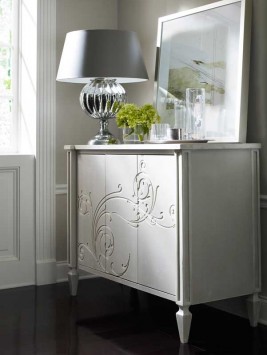 Our American Treasures® Collection of copyrighted furniture designs continues to receive extremely positive feedback from designers. Among the popular styles is the American Treasures North Sea Chest shown here.
Like all the designs in the new collection, the American Treasures North Sea Chest offers a nice transitional look that works well in virtually any home style – from traditional to contemporary. I particularly like the design on the front doors. Inspired by the curves and lines created by the fjords, cliffs and beaches comprising the stunningly beautiful, diverse coastline of the North Sea, this chest promises to be a conversation piece in any room.
The American Treasures North Sea Chest's interior includes an adjustable shelf. Like the main Habersham line, this design, and all pieces in the new American Treasures series, are available in an extensive range of finish options. You can choose from the wide spectrum of textures and tones found within our family of hand-styled signature finishes — each offering distinctive looks created by trained artists using a series of techniques, tools and exacting standards.