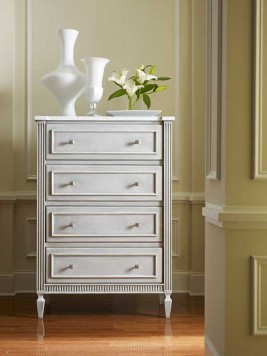 Today, there is a growing trend towards cleaner looks, simpler design lines and more transitional styles in home décor– a demand for designs that can work in casual, formal, traditional and more contemporary settings. Responding to this demand, our new American Treasures collection offers a wide range of case goods and accent pieces that can blend seamlessly into any decor
Among the pieces in the new American Treasures collection is the Southfield Chest, shown here, which brings simple lines together with a soft, muted finish to create a rich look.
Like the main Habersham line, all pieces in the new American Treasures series are available in an extensive range of finish options. You can choose from the wide spectrum of textures and tones found within Habersham's own family of hand-styled signature finishes – each offering distinctive looks created by trained artists using a series of techniques, tools and exacting standards.
Visit the American Treasures section of our site to see all of the new designs in the collection .