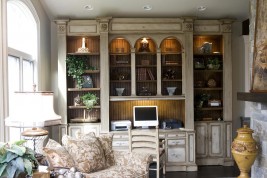 We're always working on ways to fine tune our home office designs and the Belmont Home Office style, shown here, is one of my favorites.
The dramatic Belmont Home Office design brings architectural influences of 18th and 19th century Europe together with 21st century convenience. Flanked on either side by Belmont Single Wall Units, the Home Office provides a spacious desktop area.
Above you'll find nine adjustable shelves with glass inserts and three can lights with dimmer touch switch. The bottom includes two pullout pilasters, two drawers, two file drawers with metal hangers to accommodate legal or letter size files and a keyboard tray. The unit also includes a five outlet surge protector with remote switch. Like many pieces in our line, the Belmont can be customized to meet your size and space needs. To learn more, visit the CUSTOMIZE section of our website.