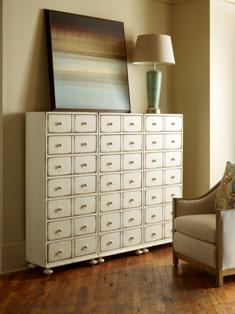 I was delighted to see that Furniture Today magazine selected our new copyrighted American Treasures® Apothecary Chest design for inclusion in their November 7, 2011 "Best of Market" article. This story featured designs their editorial team considered to be "Market Winners" from the recent October 2011 High Point Market.
The designers and retailers visiting our showroom during Fall Market certainly seemed to agree as we got a lot of positive feedback on this new design, as well as the other American Treasures® pieces we unveiled in our Market Square showroom.
Following in the footsteps of the other copyrighted furniture designs in the American Treasures Collection, the newest additions represent our response to growing demand from many of our interior design and homeowner clients who are seeking transitional furniture designs with simpler lines and cleaner styles. These pieces take their inspiration from classic styles that have been updated and simplified.
As shown here, the seven-drawer Apothecary Chest offers a delightful accent option. We chose to show three separate chests lined up together in our showroom to highlight the piece's versatility. As with all designs in the collection, this chest is available in any of our hand-styled finish options. It is also available in a 6-drawer style.