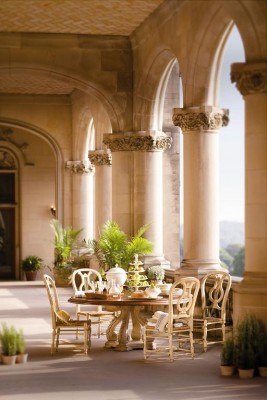 We're recently updated our website so you can see our entire Biltmore™ Chateau Reserve Collection in one easy-to-find location. Click here to review.
Our Biltmore™ Chateau Reserve Collection draws its inspiration from the entertainment and hospitality that defined the landmark Asheville, North Carolina estate at the turn of the century. The collection's grand scale designs and accent furnishings perfectly reflect the art, architecture, history and ambiance of the estate.
George Washington Vanderbilt, world-traveler, art aficionado and grandson of famed railroad industrialist Cornelius Vanderbilt, completed Biltmore House in 1895. The 250-room French Renaissance-style chateau, tucked away in the Blue Ridge Mountains of Asheville, North Carolina, was first and foremost a home. It was also an oasis for Vanderbilt's family and friends to retreat from city life to a timeless world of elegance and refinement. Comforting, yet uncommon.
Our vision for this collection has been to create furniture in keeping with the Vanderbilt vision — designs that enable the discerning individual to escape from everyday life. The quality, artistic style and versatility of our Biltmore line invite you to truly express your own sense of style.