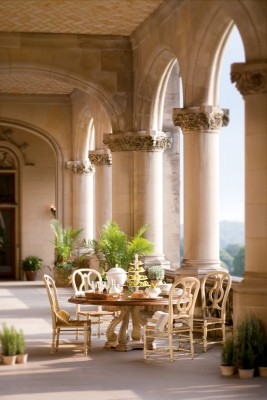 Hearst Castle™….Biltmore™…Claude Monet's Home in Giverny….New York's Plaza Hotel… Through some of Habersham's wonderful licensing partnerships, I've had amazing access to the archives, furnishings, architectural renderings and antiquities of some of the world's most celebrated homes and properties.
With our Hearst Castle Collection™, we drew inspiration from one of the most spirited, productive and long-lasting interior design projects in American history. Media magnate William Randolph Hearst and Julia Morgan, the first prominent woman architect in America, collaborated for 28 years in the creation of California's Hearst Castle. In developing our designs, we had unprecedented access to Morgan's renderings, Hearst's renowned antique collection, and the home itself.
For the Biltmore™ Chateau Reserve Collection, we looked to many of the European design influences found throughout the famed 250-room French Renaissance-style chateau that George Vanderbilt developed at the turn of the century in Asheville, NC. Here too, we had the chance to get a first-hand look at Vanderbilt's stunning collections of tapestries, antiques, art and other treasures.
Claude Monet's art, garden and famed home at Giverny, as well as his travels along the Normandy coast and the works he created during that time, provided a rich source of ideas for our Claude Monet Collection. And, the rich history and stunning architecture of New York's legendary Plaza Hotel also provided a virtual treasure trove of design inspiration.
The ideas we've generated from each of these wonderful properties just keep coming. And, we're currently working on some new additions for these collections that will come out later next year. With each design, we invite you to bring the bigger-than-life legends and history of these famed places into your own home.