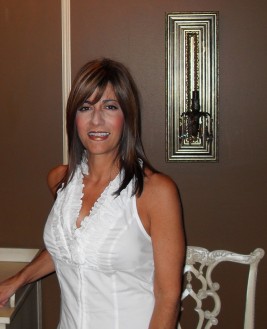 When Cheryl Nestro learned that Habersham had significantly expanded its fine furniture and cabinetry custom capabilities a little over four years ago, she knew the line was the perfect match for her newest project. At the time, the award‐winning interior designer and owner of Michigan‐based Tutto Interiors had partnered with a local builder, the owner of Vistal Homes, to help design the interiors for his 8500‐square‐foot showcase home in Northville, MI.
"I've always had a passion for Habersham so I introduced the builder to the line and he loved it," Cheryl says. "Habersham's grand scale furnishings and stunning finishes have been the perfect fit for the larger Michigan home projects I typically work on, like this one. And, the company's capacity for custom work helped seal the deal."
Always up for a challenge, Cheryl started with the home's expansive living room. "This was an oddly shaped room with all sorts of angles that were best dealt with through custom, built‐in design work," she explains. "So I took specifications from a Habersham furniture piece I thought was stunning, did some drawings of the space and then worked with the Habersham team to redesign and modify the piece for the area around the fireplace. Habersham shipped the finished design and the builder installed it onsite."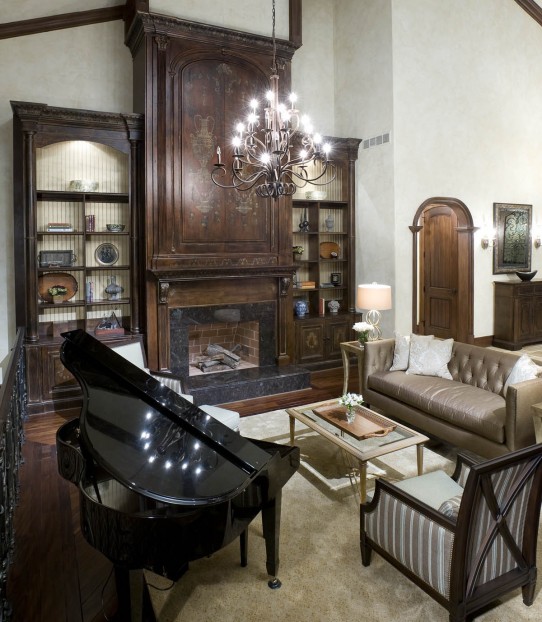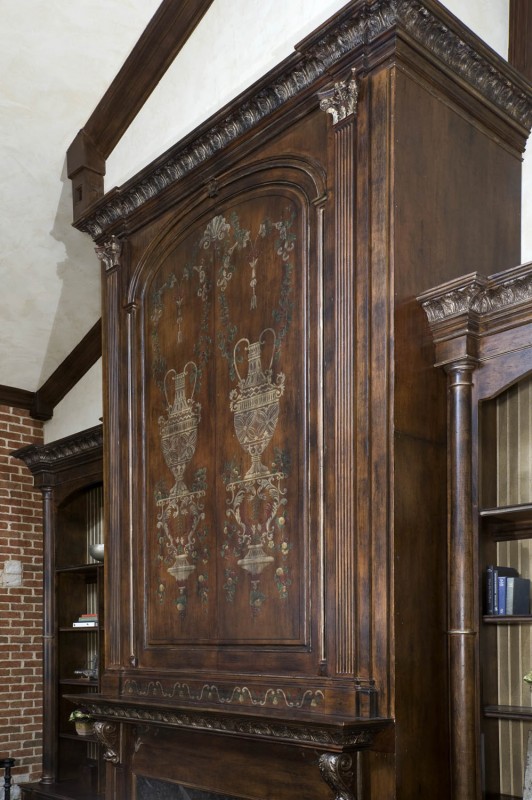 For the library, Cheryl chose a configuration of Habersham's Belmont library system to work within the space. "We installed the Belmont first and then the builder followed with a lovely coffered ceiling and wall paneling to give the room a rich, built‐in look."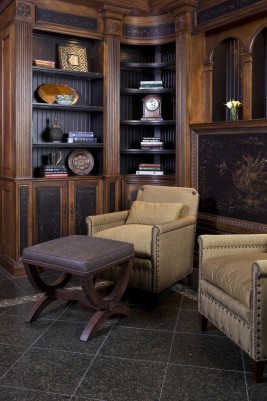 Cheryl also created a striking built‐in look for the dining room with Habersham's St. Julien Cabinet . "We literally built the room around this piece," she explains. "The crown molding was designed to meet the crown of the cabinet. I chose the beautiful Empire Studio finish to complete the look." As she was designing the home to reflect the style preferences and design tastes of her builder client, Cheryl worked to carry these deep, more masculine finishes through key rooms of the interior space.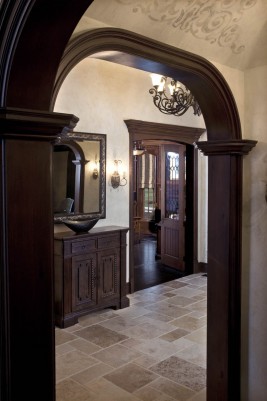 The home itself is nestled along a small body of water. To complement the beautiful view from the master suite, Cheryl chose the Palm Court Media Center in the soft, Sandemar finish, to create a light, airy look. Providing the perfect contrast to the light tile and stone in the master bath, as well as a hand‐finished barreled wall concealing a stairway to a gym below, Habersham cabinetry was hand‐finished in a rich, deep Brittany tone for a stunning effect.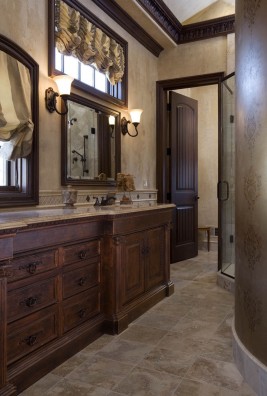 The home was recently sold to new homeowners who fell in love with the location, unique architectural styling and Habersham furnishings and cabinetry."When you find someone who really loves Habersham, who understands the nuances of the line and the grand statement it can make, there's no turning back," adds Cheryl.