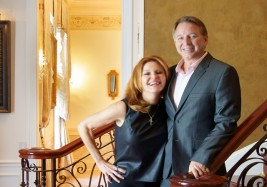 Builder: Charles Rinek Construction
Interior Design: Jeanne Rinek
Charles Rinek has been making dreams come true since 1987.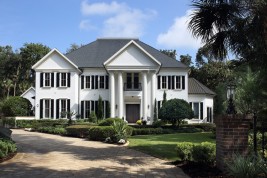 Taking a "concierge approach" to home building, he, along with wife Jeanne, and the rest of the talented team of design professionals from Charles Rinek Construction, Inc., have brought countless dream homes to life for delighted clients in prestigious communities throughout Florida's Flagler County.
"It's a discovery process we go through together," Charles explains. "Our clients tell us what they want, and we work closely with them – from start to finish – interpreting their dreams and creating exactly what they've been hoping for."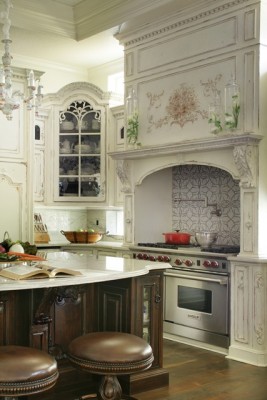 Charles and Jeanne called upon this same collaborative approach when it came time to build their own dream home in an established neighborhood nestled within Bulow Plantation Ruins Historic State Park. "We built this home around our own aesthetic," said Charles, explaining how he and Jeanne work together — he designs the home from scratch and Jeanne focuses on the interiors. "We opted for a plantation, Georgian style in keeping with the essence of the neighborhood."
For the cabinetry, the couple chose Habersham. "We've worked with a number of high-end cabinetry companies and wanted something different — something unique for the area," he says. "We found Habersham at the High Point Furniture Market and quickly saw that it offered an old world feeling with contemporary features."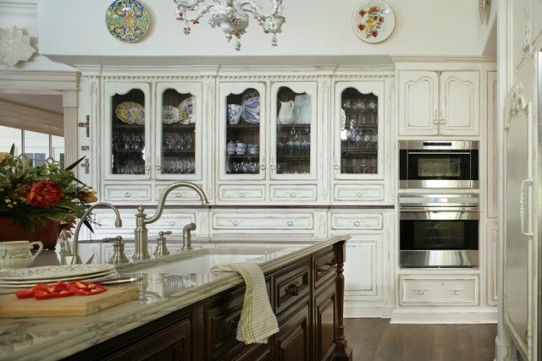 For the kitchen, the couple created an open, inviting floorplan to serve as the true gathering place of the home. "Habersham is so versatile," says Jeanne. "Thanks to its custom capabilities, Habersham can blend into any home style and when it comes to colors, your choices are limitless."
To bring a sense of warmth and depth to her kitchen, Jeanne chose to blend light, airy finishes on the range hearth, curio and wall cabinetry with rich, darker tones on the kitchen island and barnwood flooring.
"Jeanne is also a gourmet cook so we needed the space to be extremely functional as well," added Charles. "We worked to make sure that the cabinetry had the ergonomic flow needed for cooking, as well as entertaining."
Jeanne also worked with Habersham on custom furniture pieces, like the design shown near the breakfast area. "Only Habersham could reach the level of custom work we wanted," she explains. "What we were able to achieve through Habersham is not readily available from other cabinetry makers. With Habersham, you can sit down with your rep, share your vision, and then work with their artisan team to create something custom-tailored to your every need."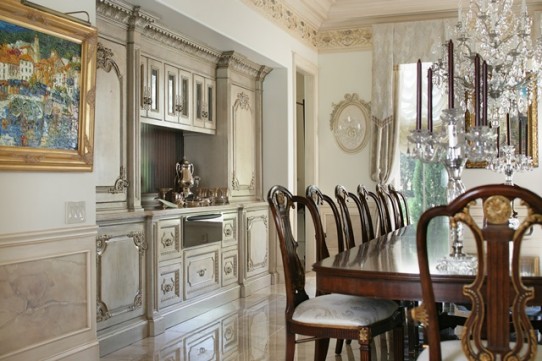 "For our dining room we were able to work with Habersham to create beautiful cabinetry that didn't intrude into the space like a piece of furniture might," Jeanne adds. "It's flexible, not intrusive and it truly elevates the room. It's quite functional too, with lighting, shelves for wine glasses, storage and a warming drawer."
"This is not your typical 'hutch' and people love looking at it. Everything is so well crafted. It's like a piece of art on the wall," she adds.
The Rineks also chose Habersham fireplace mantle and wall cabinetry to help create a focal point in the living room. "This design is especially functional in that it frames the fireplace, provides storage for videos, DVDs and electronics," explains Charles.
"We also collect art and porcelains and this cabinetry offers a wonderful, non-intrusive way to showcase these pieces. Art is here to embrace your life and Habersham gives us this structural component that's artful too."
Habersham cabinetry can be found in other spaces throughout the home, including a custom bar area, as well as a study, where its traditional, classic style comes together with modern design lines for rich effect.
"It's part of creating an eclectic space," Charles explains. "So often people stick to one theme or look throughout the home. I think it's important to show life within the home by using more than one theme – whether that's achieving light with color or by mixing trends – old with new, Asian with modern."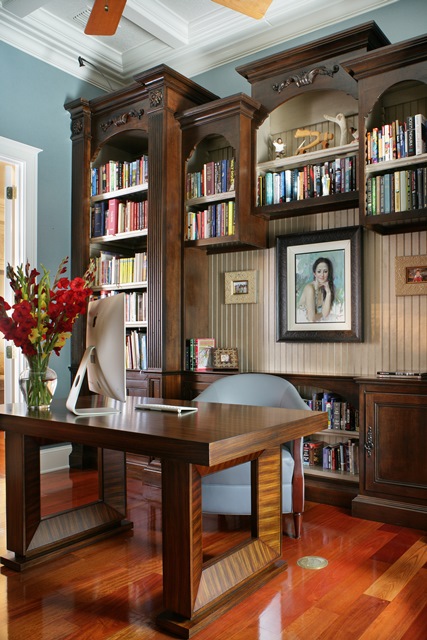 "There is no singular approach to life and that applies to building too," he adds. "It's important to keep in mind that there is a certain familiarity that comes with diversity. That's what makes a home so special."