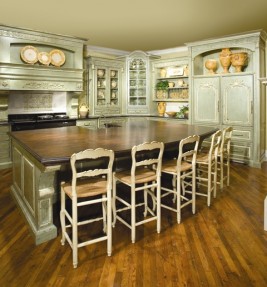 As we inch closer to 2011, now is the time that we start seeing various trend forecasts for the coming year. Among the first we've seen was last week's article in Kitchen & Bath Business talking about next' year's color palette for kitchen cabinetry. In the story, K+BB quoted a report by paint manufacturer, Mythic Paint, that shared , as the article states, "insider knowledge gleaned from experts and designers to predict the hottest colors of next year. "
Among the colors expect to be big in 2011 in kitchen cabinetry as outlined in the K+BB article include:

"Green – Green's popularity soared in 2010 and 2011 will be just as kind to the versatile color, which works in just about any room in the house.
Yellow – Influenced by Mayan culture and folktales, sunstone gold will be one of many Native American Influences on color next year. Yellow adds a nice burst of color to the home but can be too bold for some. A lighter shade may work for the color shy.
Gray – Gray will be a go-to color in the coming months because it complements any other color. Gray even goes with Gray.
Coral – Perfectly paired with blues and golds, coral adds warmth to any room, particularly as an unexpected accent in the bathroom.
Blue –Blue has that split personality. It can trigger feelings of sadness (hence the phrase "feeling blue"), but it's also the most relaxed color . Icy blue is set to be the dominant shade in 2011."What color are you thinking about for your 2011 design projects? Here at Habersham, we can help thanks to the virtually limitless finish selection we offer. Choose from the wide spectrum of textures and tones found within our own family of hand-styled signature finishes. Or, look to the vast palettes of Benjamin Moore ® and Sherwin-Williams ®, which collectively encompass more than 4,400 different colors.