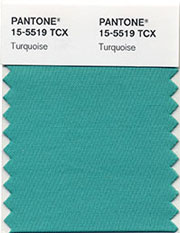 Last week, global color authority Pantone unveiled the Color of the Year for 2010 – Turquoise. In explaining the choice in a company press release, Pantone said, "Combining the serene qualities of blue and the invigorating aspects of green, Turquoise evokes thoughts of soothing, tropical waters and a languorous, effective escape from the everyday troubles of the world, while at the same time restoring our sense of wellbeing."
Color plays an important part in our lives, our moods and our surroundings. At Habersham, color plays a key role in every aspect of our design process. We're always looking for new sources of inspiration to expand the hues and tones we offer in our hand-styled finishes and hand-painted decorative elements. While we certainly look with interest at the forecasts of trend leaders like Pantone, we also look a little closer to home to create our own color direction.
Throughout the year I collect things– fabric swatches, pages from fashion and home magazines, nature pictures – anything with rich colors and interesting textures that catch my eye. We use these items as we start working on new finish ideas for the coming year. For 2010, we've got a number of versatile new finishes in the works that can offer dramatic statements, subtle accents or that perfect, warm finishing touch to any room design. We look forward to sharing them with you.