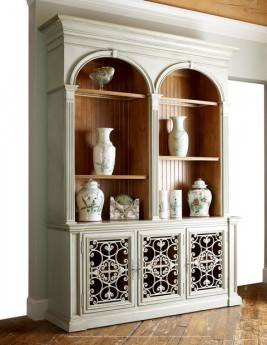 During last week's High Point Market, we used our showroom as a showcase for the versatility of our finish options. To clearly demonstrate how a finish can change the look of a piece, and set the tone for a room, we showed one of our new introductions in two dramatically different finish options.
The design, shown here, is our Biltmore Overlook Arch Bookcase , which was inspired by the beautiful arches and ironwork in the library of the estate. The arch design is complemented by an open, ornate grill design on the doors below.
We showed it in Sea Spray Multi-Color with Antique Honey interior (left) and in Empire, also with an Antique Honey interior (below right). As you can seek each looks decidedly different – reflecting a more masculine or feminine look.