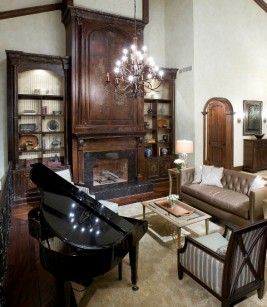 If you've visited our website, you know that we like to put the spotlight on homes around the country that feature the Habersham line. We also highlight the interior designers who do such lovely work with our line. We're working on a really interesting story now that will be live on our site later this month.
This particular home was designed by Cheryl Nestro of Northville, MI-based Tutto Interiors (www.tuttohome.com) . Cheryl has been working with our line for the past 6 years and she is just so talented! We love working with her. This home started out as a showcase home for Vistal Homes, a local builder she had partnered with. Cheryl used our line for many rooms of the 8500-square-foot space , including the living room, shown here.
As Cheryl explains in the upcoming story, "This was an oddly shaped room with all sorts of angles that were best dealt with through custom, built-in design work," she explains. "So I took specifications from a Habersham furniture piece I thought was stunning, did some drawings of the space and then worked with the Habersham team to redesign and modify the piece for the area around the fireplace. Habersham shipped the finished design and the builder installed it onsite."
We'll be posting the full story soon, including a profile on Cheryl and her business.