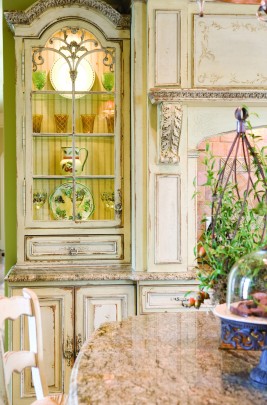 Sometimes a seemingly simple accent can make all the difference in a room design. And for certain rooms, a lovely curio cabinet might be just the thing to complete or enhance a certain spot.
Our team can create custom countertop curio designs to serve any number of decorative and practical purposes. Whether pairing with our Venetian Hearth range hood design as shown here or utilized in other parts of your kitchen décor, these curios offer elegant, functional storage options.
Choose from countless hand-painted and wood stained finish options and styles to create the look you seek for today's kitchen. To see more curio designs, click here.