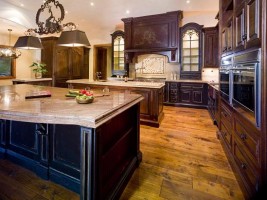 More than 100 designers who are members of the National Kitchen & Bath Association (NKBA), and have designed kitchens or bathrooms during the last three months of 2010, participated in an NKBA survey to reveal design trends in the marketplace for 2011, highlighting custom kitchen cabinetry in particular .
The association points out that these results highlight overall trends across the United States and Canada – so they won't necessarily appear in all geographic areas. Among the trends they identified in custom kitchen cabinetry was the growing popularity of dark finishes.
According to the NKBA press release, "Dark natural finishes overtook medium natural, glazed, and white painted finishes to become the most specified type of finish toward the end of 2010. While medium natural fell from being used by 53% to 48% of designers, glazed from 53% to 42%, and white painted from 49% to 47%, dark natural finishes rose from 42 to 51%. Light natural and colored painted finishes remained fairly common, as each rose slightly from the previous year: 24% to 25% for light natural and 24% to 29% for colored paints. Distressed finishes dropped significantly from a year ago, when they were used by 16% of designers, to just 5%."
Here at Habersham we're always ready to respond to breaking color trends and the specific design tastes and styles of each individual client. So whether you are leaning towards a rich, dark finish or lighter, natural tones, we can help. You can choose from countless hand-styled finishes within our own color family OR look to the limitless palettes of Benjamin Moore® and Sherwin Williams®. To learn more about our custom cabinetry and hand-styled finishes, visit our website today.