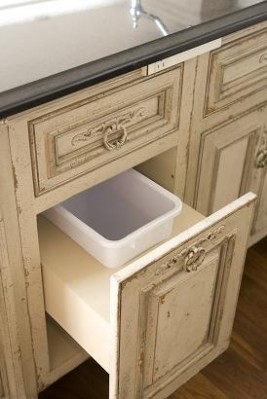 According to a recent National Kitchen and Bath Association (NKBA) trend report, a greater emphasis is being made to address trash considerations when it comes to custom kitchen cabinetry.
The NKBA trend press release goes on to say the following about custom kitchen cabinetry, "Some 89% of kitchens designed by NKBA members in the final quarter of 2010 include trash or recycling pull-outs. In addition, garbage disposals were incorporated by 86% of designers, up from 75% the previous year. Trash compactors have also become more common. Entering 2010, they were recently used in designs by 11% of designers, but a year later, that figure had climbed to 18%. These changes may be due to an increase in sustainability awareness, but they certainly indicate an increase in concern toward trash generated in the kitchen."
We're always looking for new ways to add convenient, practical and visually appealing elements to today's kitchen. We offer a wide range of trash storage options for the kitchen and I'm showing just a couple of samples here. To learn more about ways we can help customize the kitchen to meet your specialized needs, contact us today!