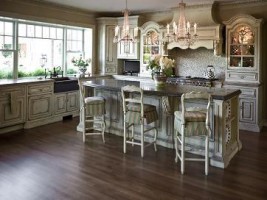 As the focal point of a kitchen, and often, the entire home
, custom kitchen cabinetry
styles offering timeless looks and a sense of simple elegance are growing in popularity.
Here at Habersham, we're seeing increasing demand for custom kitchen cabinetry designs that blend classic design styles, like corbels, with simpler, architecturally inspired design lines, to create casually elegant looks.
The textures and tones of a certain finish can also contribute to the overall sense of simple elegance. Working from our own extensive family of finish options, or any of the colors in the vast Benjamin Moore® or Sherwin Williams® color libraries, we can create virtually any finish our customer envisions.
Form must also flatter function when it comes to custom kitchen cabinetry. From integrated refrigeration and dishwasher cabinetry to range hoods to special storage areas, our artisan and engineering teams works closely with interior designers and home owners to make sure our cabinetry is as functional as it is fabulous. To find out how we can help you bring a touch of simple elegance to your kitchen environment, contact us today.