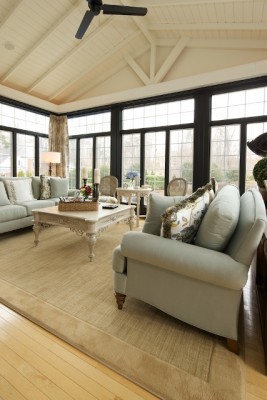 Featured Designer: Linda Andrus, Founder/Designer, Cyprian Hill Design, LLC
Calling upon her client's love for the Habersham line, as well as French Country style, designer Linda Andrus has created a lovely, luxurious, and incredibly livable environment for this family of five.
"I feel that the space you live in says a lot about you, impacts how you feel and how you approach each day," Linda says, talking about her client's true appreciation for the artistry and craftsmanship that go into each Habersham piece.
This project began when the client asked Linda to help with the renovation of their 6,000-square-foot home in the suburbs of Annapolis, MD. The two were acquaintances through a mutual friend – both had kids in the same school – and Linda was just gearing her design business up again after taking time off to be with her own young children.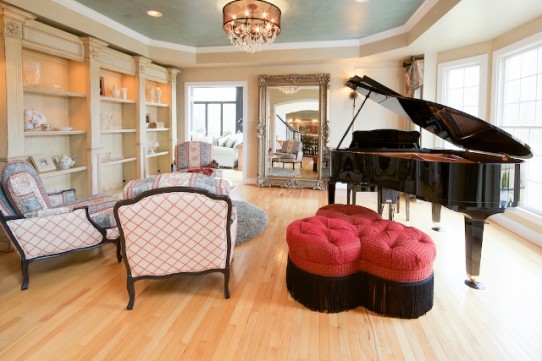 "My client had a Habersham piece she and her husband bought when they got married and went on to acquire more over the years. She had also incorporated a very traditional Country French style in her home, using a palette of red, blue, and yellow tones. I wanted to upgrade the Country French influence to a more timeless, rather than trendy look — adding softer hues of blue, cream, and pops of red. My goal was to bring a more Old World European aesthetic to the interior."
They started with the living room. The client's husband loved Habersham's bookcases, so Linda chose the Belmont Library System, shown here. She also commissioned faux paint artist, Darren Salta, Rock Homes, to reflect the textures and tones found on the Habersham pieces on the walls and ceilings throughout the home.
"The echo of the Habersham influence on these surfaces really adds a rich feel to each room," she adds.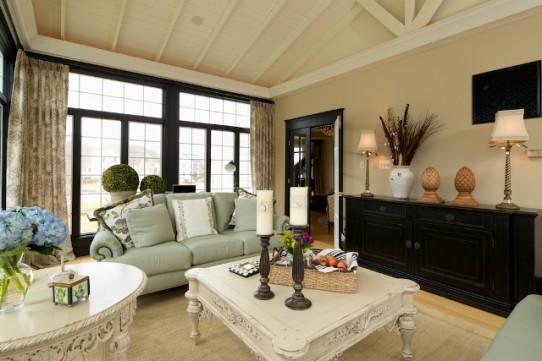 For the conservatory, Linda opted to bring a more elegant atmosphere to a space that was previously home to countless toys and oversized, ruffled furnishings. Taking the room style up a notch, she added trim work and incorporated Habersham accent tables and a sideboard in a rich contrast of light airy tones and rich black hand-styled finishes – providing the perfect complements to the soft greenish blue hues of the upholstery and the room's natural light.
For the dining room , Linda chose Habersham's dramatic Renaissance table design, which makes a statement with its striking wood and metal base and grand top.
Offering soft accents in lovely yellow tones, Habersham's Pompeii Sideboard, Preston Corner Cabinet and Biltmore Pedestal complete the look .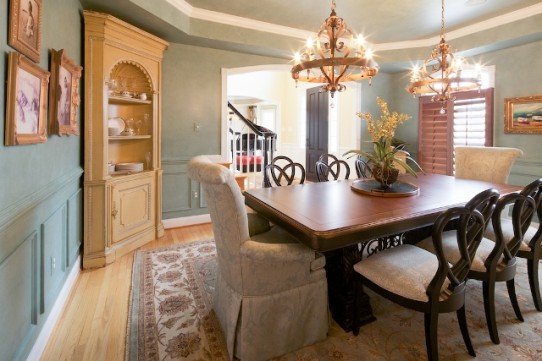 As they were working on these three rooms, the client also asked if Linda could expand the project to include renovation of the master bath upstairs. Reflecting the trend of the late '90s and early 2000s, it was an all-white master with builder-grade cabinetry and tile.
The client wanted more space and a way to incorporate Habersham's bath cabinetry into the area. So Linda started by reducing the standard double door entrance to an arched French door. A toilet closet was reconfigured to enlarge floor space for the shower, and a jetted tub was replaced with a lovely claw footed design.
Bringing Habersham custom bath vanity and mirror designs together with a mixture of crystal lighting, wall sconces and extensive trim, Linda was able to create a luxurious oasis.
"You feel like you're stepping into the Ritz-Carlton or Four Seasons the moment you enter the space," she adds.
They're not finished yet. The client is so happy with everything that she has since engaged Linda to turn her kitchen into a Habersham kitchen as well.
At press time, the design work has been completed, appliances and hardware have been selected and a plan is in place to bring the lovely Old World elegance that now permeates the rest of the home to the kitchen. Look for another story showcasing the kitchen on the site soon.
"My client looks at her Habersham pieces as heirlooms …but she's not planning to give them up any time soon," laughs Linda. "She wants her children to have the best of everything and these designs will be theirs one day.
"She has such an appreciation for the artistry and craftsmanship that goes into each piece and has passed this appreciation on to her children, too."
" I hope that the individual Habersham artisans know how much joy they've brought to my clients," she adds.