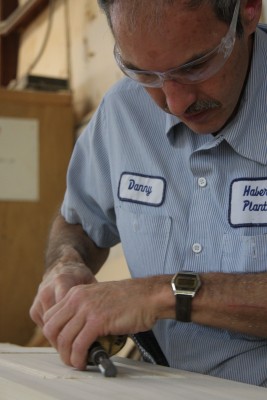 While many things have changed at Habersham since Danny Jones started working here more than 32 years ago, one thing, he notes, has remained the same.
"There's always been a serious attention to detail," Danny explains. "From the beginning we've always worked hard to create designs that we're proud of, and that please our customers."
Danny started his carving career at Habersham in the late '70s where his primary job was working the routers – cutting, trimming and shaping wood for the basic pieces that made up the Habersham line at that time. He watched the more experienced carvers and gradually picked up their techniques and skills. Over time, he would fine-tune these skills, adding his own flourishes and signature touches.
Working with quality hardwoods and veneers, Danny still uses the router, as well as hand grinders, sanders and other tools to create the textures, styles and patterns that have become Habersham hallmarks.
"We're certainly doing much more custom work today," he adds. "Projects come to me with very specific requests and I work hard to get each piece right – to make sure it meets Habersham's tough quality standards, and more importantly, the customer's high expectations."