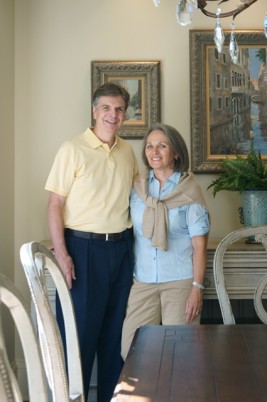 For Donna Allen, home design isn't a process, but a passion. Working closely with husband Dave, she designs home interiors and exteriors for their building and renovation projects. Whether it's a spec home or a room project, Donna oversees every element of the design process – from wrought iron exterior accents to cabinetry crown molding.
The duo has worked with Habersham on a number of projects and when it came time to build their own home, they planned to use it in one room…and just kept going.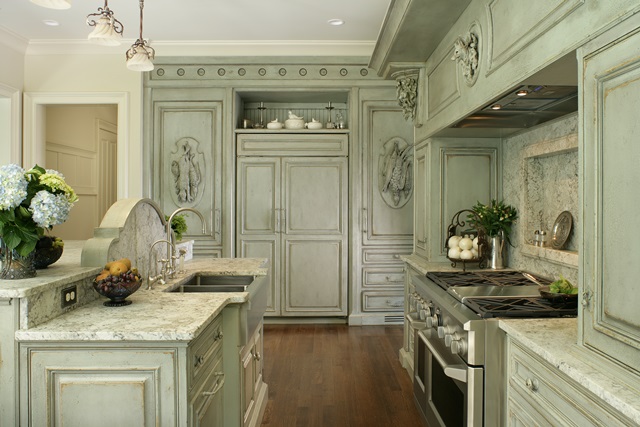 "We fell in love with Habersham when we first saw it years ago in a designer showroom. It's a company that truly 'gets it' about furniture. The pieces are well made– calling upon a time-honored design process," says Donna. "I had a design in mind before I even started working on this home and Habersham perfectly reflected my vision."
Since the couple's children and grandchildren lived in Raleigh, Donna and Dave decided to pull up stakes from their home base in Alabama and move to North Carolina. The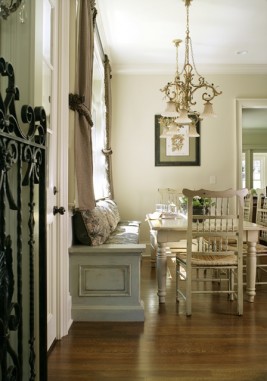 neighborhood they chose was in the historic Five Points area of Raleigh, so it was important to the couple to design a home that not only worked within the architectural, landscape and other certified requirements of the neighborhood, but one that blended aesthetically with the other homes and overall atmosphere as well.
"The homes here are Tudor, French Provincial, and Georgian, so we opted for a European Georgian style to maintain the integrity of the neighborhood – carrying the style from the exterior to the interior," Donna explains. "Our home reflects our travels and interest in art and handmade craftsmanship – from the Habersham cabinetry and furniture right down to our stairway, which is all hand-turned wood."
For the kitchen, Donna wanted a casual European elegance with a new world twist. "I wanted a casual look with a touch of whimsy," she explains. "Your home should have your own stamp. In Europe you don't find homes that are all French or all Italian—that's more an American thing. Because of Habersham's design flexibility, they allow you to make your own space unique. The design team is very open to your ideas, shows you how things can work with your colors, and then helps achieve your vision."
Donna drew and scaled her kitchen, working closely with the Habersham team on molding choices, dimensions, reviewing board/color samples and more. "The process worked so well for me," she says. "The Habersham team is not locked into design restrictions—rather they wanted to help me with everything I hoped to achieve."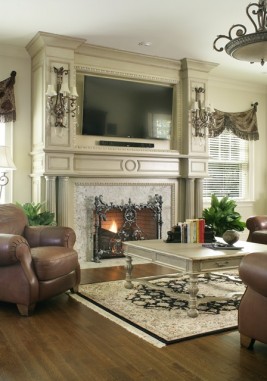 Donna had found antique, hand-carved animalia designs from the 1800s and early 1900s that she wanted to incorporate to create a "Hunt" theme. Habersham's artisans worked with her to paint the designs and integrate them into the cabinetry.
Playing to her sense of whimsy, there is a fox looking out from the range hood, while a dog searches for him below. Fish and fowl designs on hunt plaques tie the theme together, while Victorian rosettes above the integrated refrigeration complete the look.
In the living room area, Donna wanted to find a way to create an Old World fireplace that could work with their TV. She drew the design and again worked with Habersham to create a custom design that effectively blended Old World sensibilities with modern technology.
The family room brought its own design challenges. "I wanted a country home in the city, but with this lot and building in a city, there were limitations," she says, explaining how they were not able to place the family room/study on the first floor. "So we moved it upstairs and made it work."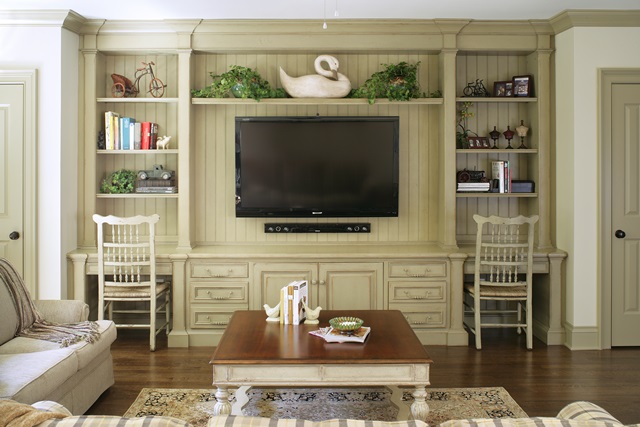 To provide dual workspace so their daughter would also have room to work when she visited, Donna and the Habersham team created a "workspace office." Each side provides plentiful, practical room for a computer, dvds, and desktop. Designed to look like three drawers on either side, the space includes one top drawer while the bottom two are actually a single file cabinet.
"The piece and its finish offer a comfortable, relaxed look, which is so important. You shouldn't feel 'afraid' of using or damaging your furniture. Comfort is key," she says.
The master bath was designed with two opposing his and hers sinks. Donna wanted an elevated backsplash, which Habersham accommodated by providing a rounded front allowing the sink and faucet area to be pushed out further.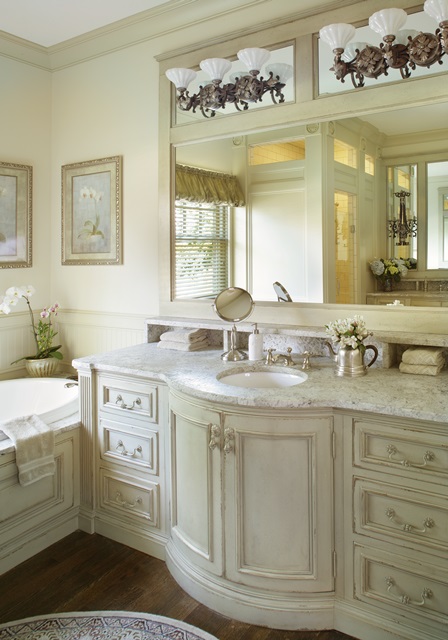 "If you look in the mirror of the 'his' side here, you will see how we tried to create a complimentary, yet different look for the 'her' side with three sections of mirror and chandelier lighting."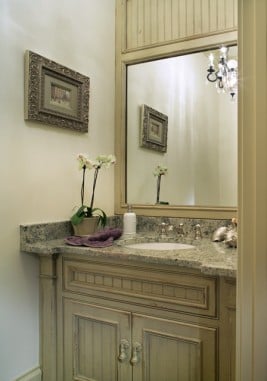 A lovely guest bath also reflects the overall design style of the home with its casual bead board and soft, hand-styled finish.
For the bedroom, Donna and Dave were able to order a customized addition to an existing piece of Habersham to make room for a larger TV.
When they originally purchased the media center/sideboard 9 years ago, Habersham shipped it with a sample board featuring the finish from the piece. Donna was able to ship that finish board to the factory to use in matching the new piece that now sits on top and holds the TV.
The addition is versatile too, as it is designed to either sit on top as shown, or be mounted on a wall.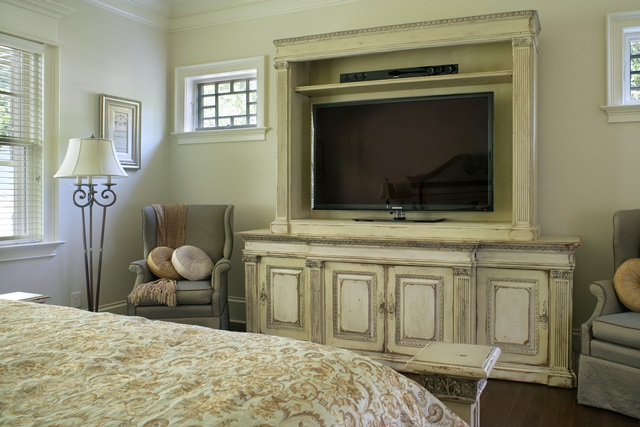 "If you can envision it, Habersham can create it–working closely with you along the way. It is a wonderful design partnership experience," said Donna.