Scroll through our the newest custom cabinetry innovations and furniture designs that joined our line during the Fall 2013 High Point Market
FALL 2013 SHOWROOM ENTRANCE When buyers arrived, they were instantly transported to Paris. Taking its inspiration from a Parisian flat one might find in the city's wealthier suburbs, the front room of the showroom put the spotlight on Habersham's latest custom cabinetry innovations. Among them, new crown molding, new pilasters, a new entry/arch system, new drawers, flush mount outlets, banquette island and much more. The space also highlighted Habersham's newest finish series, Parisian Luxe. This multi-step, "paint-on-paint" finish offers rich, aged looks.
BANQUETTE ISLAND — Ideal for a formal or informal kitchen style, this design is as fabulous as it is functional. Easily seats three and aligns perfectly with virtually any table style too.
ARCHWAY ENTRY – Make a grand entrance to any room with this new cabinetry design. Completely customizable this piece includes a lovely rosette in its center top.
ARCHWAY ENTRY ROSETTE – Detail shot of the lovely rosette at the center top of our new Archway Entry.
FIREPLACE WALL – Showcasing the many new style elements Habersham is using it its custom fitted room cabinetry designs, this fireplace wall is a study in understated elegance. From new crown molding and pilasters to the lovely Parisian Luxe finish and hand-painted accents, your custom choices are limitless.
KITCHEN DETAIL – This view gives you a closer look at the detailing and styling of the wall mount range hood , curios and other cabinetry elements.
INTEGRATED REFRIGERATION CABINETRY — A closer look at the refrigeration cabinetry, showcasing new crown molding , new pilasters, hand-painted art accents and more.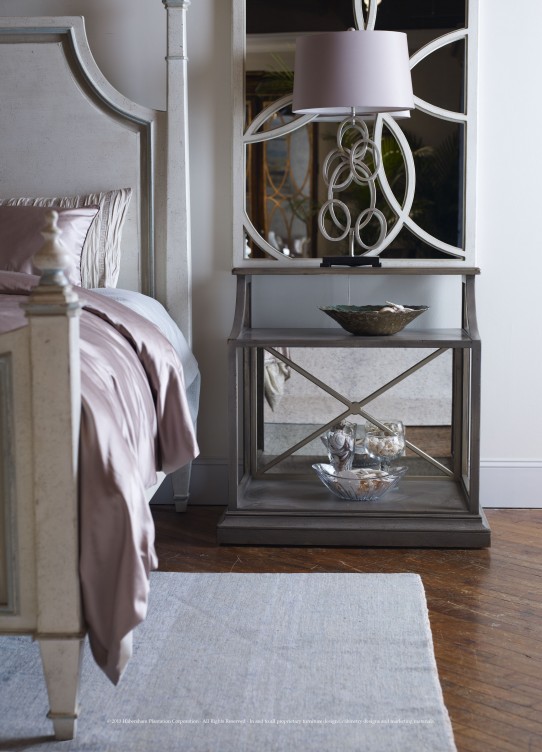 01-1709 CHELSEA OCCASIONAL TABLE– Shown in Habersham's Greystone finish, this new table design blends classic lines with transitional styling for a versatile accent that can work in any décor. Antique mirror on the inside back adds textural interest.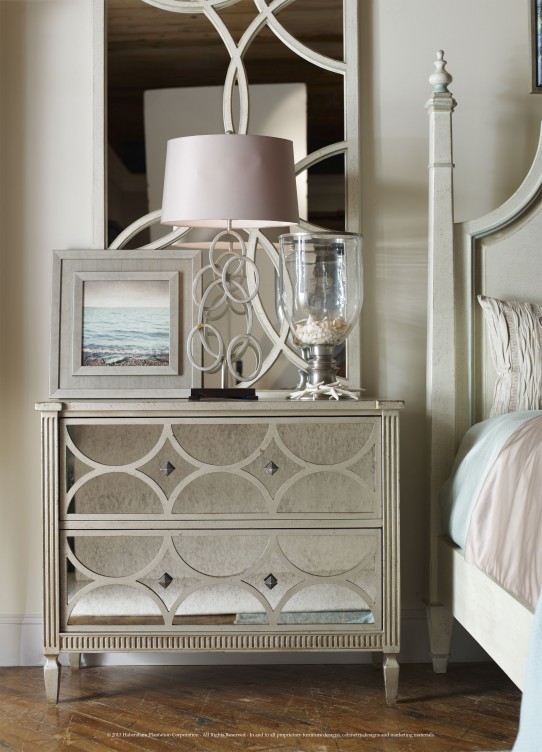 01-1746 CROWN POINT CHEST – Bringing antique mirror together with sleek, curved mullion designs, this transitional chest design can add a touch of casual elegance to today's home.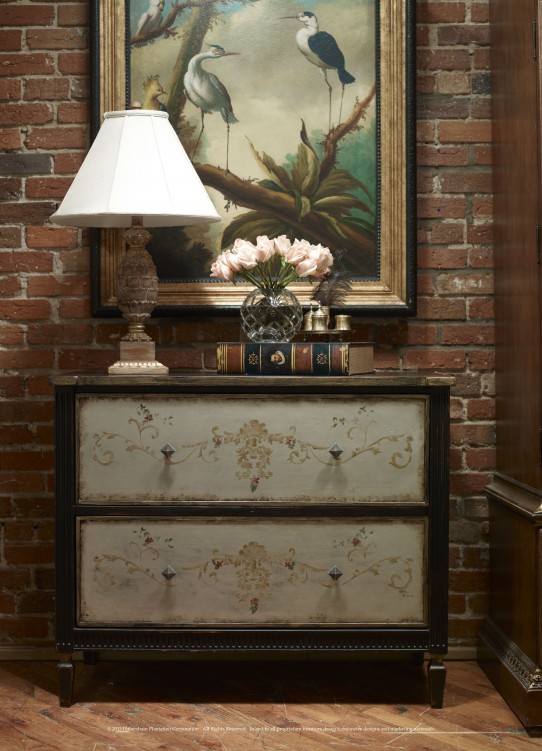 01-1747A TUSCAN 2-DRAWER CHEST WITH ART –Bring a touch of Old World Europe into your home with this lovely design. Meticulously hand-painted traditional French filigree artwork adorns the front of the two drawers. Offering an elegant, subtle backdrop, the rest of the piece is finished in Habersham's Warm Silver.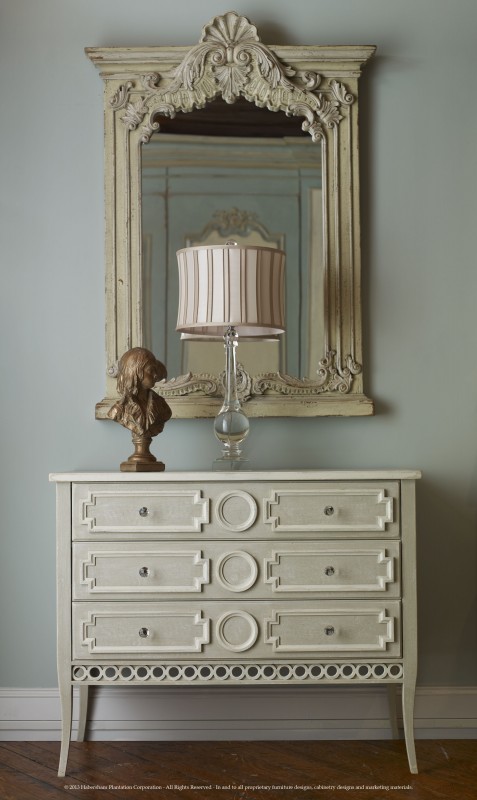 01-1752 PROVENCE 3-DRAWER CHEST – Shown in Habersham's Charleston Grey hand-styled finish, this design can lend a touch of casual elegance to any room. Circular accents, crystal drawer pulls and classic design lines complete the look.
01-1753 PROVENCE 5-DRAWER CHEST – An ideal lingerie chest, this modern/transitional design is a study in simplicity and style. Clean lines and crystal drawer pulls add a touch of understated elegance. Shown in Habersham's new Parisian Luxe finish, Imperial Green.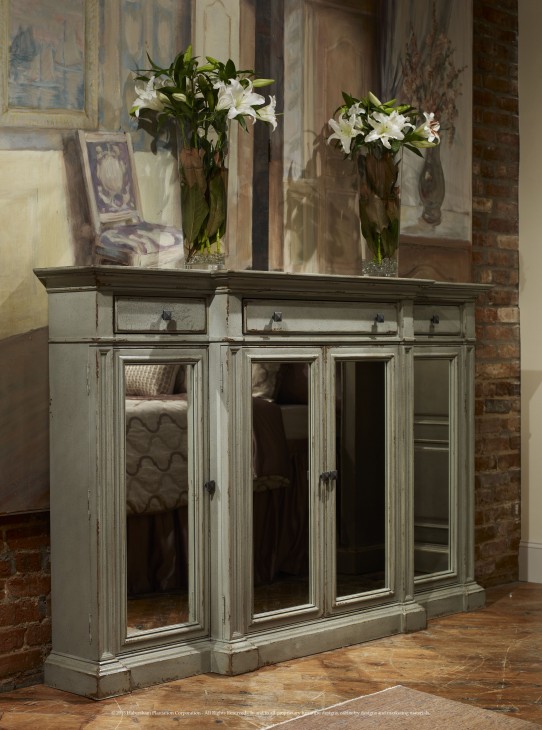 01-2362 BAHAMA SIDEBOARD WITH CURIO — Our popular Bahama Sideboard design now joins Habersham's new Designer's Choice program, which allows trade customers to select from a variety of options. Among them – up to 10 different mullion choices for door fronts; interchangeable doors ranging from glass, solid or mirrored options; clear or seeded glass; mirror or antique mirror glass; hardware options and more. When it comes to molding, choices range from two different base options, three crown molding styles, as well as six pilaster designs. Hand-painted art can also be custom-tailored to reflect a specific color swatch.
01-2746 ADELAIDE DISPLAY CABINET –Showcasing a new mullion style on its door front, this design blends clean lines, mirror and a hand-styled finish for rich looks.
01-2747 2-DOOR ADRIENNE DISPLAY CABINET –Show you treasures in style with this delightful display cabinet design. Sleek and stylish, the piece is available in countless finish options. Glass doors and clean, simple design lines offer versatile looks that are at home in casual or contemporary settings.
01-2795 ALLISON HOME THEATRE — First introduced during the Spring 2013 Market, this clean, classical design returned for Fall Market to showcase its versatility. Shown with 40" width at its center, it can be custom-sized to hold most 60" TVs. Shown in Habersham's Basilica White with Warm Silver.
01-3356M MODERNE COFFEE TABLE – Inspired by the Art Moderne architectural style that emerged in the 1930s, this design can lend a contemporary accent to today's home. With antique mirror at its base and sides, this design will add a sense of space and elegance to any room. A glass top adds an elegant touch. Shown in Habersham's Warm Silver finish.