If you're in New York, be sure to visit the Plaza Food Hall by Todd English. Located in the lower level of the famed Plaza Hotel, this lovely space invites you to stroll and sample countless delights in this European–inspired specialty food hall created in collaboration with acclaimed chef/restaurateur Todd English. While here, you can also explore a true retail jewel — Town and Country Living.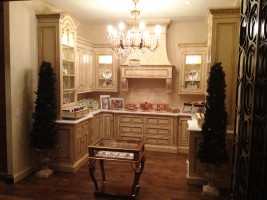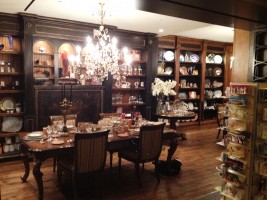 Created by Tina Nyman and Denise Leventhal, this 1000-square-foot delight at the Concourse Level of the Plaza Hotel celebrates the art of entertaining with its lovely selection of tableware, china, crystal linens, flatware and one-of-a-home accessories and furnishings. Providing the perfect backdrop is custom, hand-styled cabinetry from Habersham, ranging from a stunning full kitchen to a stately library system. Denise and Tina special in interior design as well as custom Habersham kitchens.
"We felt that Habersham's versatile cabinetry could bring a rich old world look that would blend seamlessly with the Plaza environment while showcasing our unique merchandise selection," explains Tina. "Habersham is so versatile – it can work in a formal or casual setting. Quite simply, it elevates everything."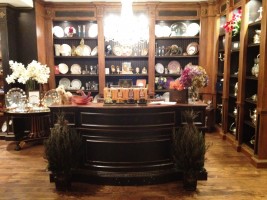 "We love what Habersham can do throughout an entire home and wanted to showcase their capabilities to clients walking into our store," added Denise. "Habersham can also conform to the Manhattan lifestyle. Take the Belmont Bookcase for example. Apartments here have high ceilings, but not a lot of square footage. So a piece like this can be 18" deep and 10" high –offering a grand display option that works in a smaller space."
Town and Country Living represents the latest step in the women's successful design/business partnership. Before opening the new store, Tina operated a retail and interior design business in New Jersey for 15-plus years. She and Denise, also a designer, worked together on countless design projects during this time.
They began looking for a way to move their business to the city and when the Plaza partnered with Todd English to create the new Food Hall ,they felt the timing and location were perfect.
"While we're not in the food business, we are in the business of celebrating the home," add Tina."And that's our focus here at Town and Country Living – focusing on lovely interiors and entertaining at home."
It's a store concept that's certainly working. Tina and Denise say they see clientele from all over the world who delight in the meticulous craftsmanship of Habersham's cabinetry and the creative selection they've brought together.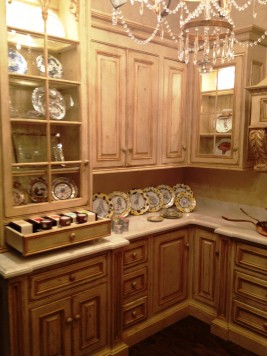 For more information, click here to visit the Town and Country Facebook page.