Charles Rinek has been making dreams come true since 1987.
Taking a "concierge approach" to home building, he, along with wife Jeanne and the rest of the talented team of design professionals from Charles Rinek Construction, Inc., have brought countless dream homes to life for delighted clients in prestigious communities throughout Florida's Flagler County.
"It's a discovery process we go through together," Charles explains. "Our clients tell us what want, and we work closely with them – from start to finish – interpreting their dreams and creating exactly what they've been hoping for."
To help make these dreams come true, Rinek often turns to Habersham. "We've worked with a number of high-end cabinetry companies but when we discovered Habersham at the High Point Furniture Market, we knew we'd found something special."
Take, for example, a recent custom project (kitchen shots shown here), Charles and Jeanne were working on for a couple in Ormond Beach, FL. "They were at a transitional point in their lives so we wanted to create a design that reflected this period," Charles explains. "So we met with them, gathered information about where they had come from and where they were heading. We took their past, present and looked to the future to create a design that met the ideal of their aesthetic and they loved it."
"They are very well traveled and wanted to be reminded of their travels when they came home," added Jeanne, a design professional who works closely with clients on their home interiors. "They love Asian art and have all sorts of Asian pieces. But they love Habersham too. So we are able to blend transitional Habersham cabinetry, contemporary lighting, textures and tones to create a rich look. It shows there aren't really any rules in home design except you need to love where you live."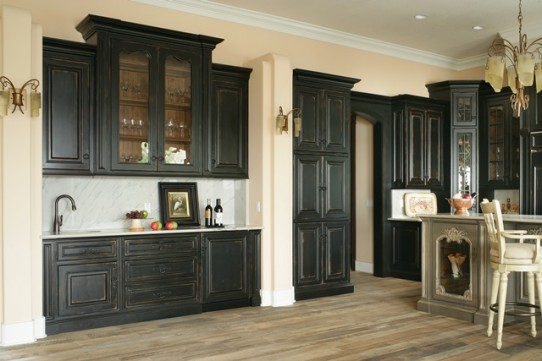 "With Habersham, everything is included in the front end," Charles says, discussing its higher end price point. " Oftentimes, when working with other cabinetry companies, when you start adding features and doing additional custom work to try to get close to what Habersham provides, the final product ends up costing more. With Habersham, you always end up with a better value and, most important, an artful product."
We also featured the Rinek's home on our site recently. Click here to read more.
Photography by Peter Rymwid