We want to let our trade customers know about the Distress & Aging Standards for our finish options, including Classic Studio, Parisian Luxe and Essentials. Please see examples here.
Designed to make it easier than ever to guarantee your discriminating client's complete satisfaction on the quality and craftsmanship of our handcrafted finishes, these standards should remove any guesswork regarding your expectations from the ordering process.
As you'll see, we've created clear-cut, easy-to-understand — and visualize distress & aging levels – 25%, 50%, 75% and 100%. This gives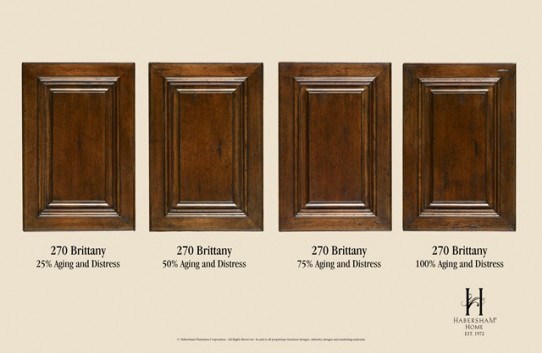 you the flexibility you've come to expect with Habersham finishes – offering a versatile range within the standard pricing structure.
Because our custom capabilities are virtually limitless, other aging and distressing options are always available for an upcharge.
Use your trade login here on the website or contact Habersham Representative or 800.HABERSHAM to request a full set of high resolution images showcasing Habersham Distress & Aging Standards to share with your clients.