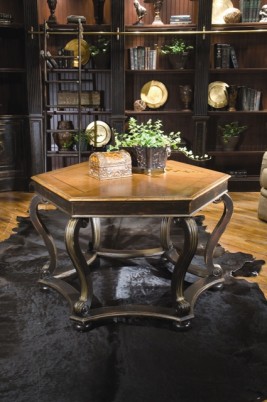 Striking colors and interesting textures describe our hand-styled Studio finish. One of many different options we offer, the Studio finish brings a true antique, yet versatile look to our furniture designs. The Piazzo Foyer Table, shown here, offers a nice example of this finish – showing a striking combination of Devonshire Studio (top) and Empire Studio (base).
Available in a wide range of colors, each Studio finish is carefully built onto individual pieces by a gradual layering process where a series of paint coats and textures – all within the same color tone family – are slowly applied on top of one another.
In addition to our Studio Finish, you can choose from other Habersham finishes too, like Connoisseur, Gallery, Essentials and Furniture Art™. As an added feature, we can also finish our pieces using any of the tones from the Benjamin Moore ® or Sherwin Williams ® color palettes too. The choices are limited only by the imagination. Contact us today to see how we can bring your color vision to life.