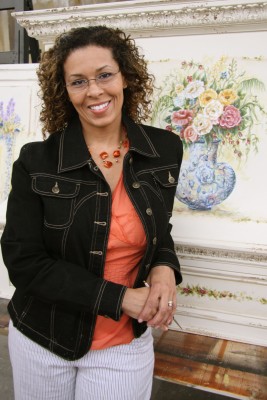 All of our Habersham Furniture Art ™ designs are hand-painted by skilled artists like Jennifer Russell, pictured here. A Masters of Fine Art graduate of the University of Illinois, Jennifer first learned about our company when she spotted one of the help wanted magazine ads we were posting in art publications featuring the headline, "Do it for the love. Do it for the Monet." She traveled to our offices, got the job and began working on the designs and styles that have become our company hallmarks over the years.
In addition to painting Habersham's own signature art styles, Jennifer works with clients who request slight alterations to color combinations and design motifs or have their own their own patterns or designs in mind.
Custom options like these are just a few of the ways we can work with you to create furniture and cabinetry designs that reflect your own personality, sense of style and way you want to live today. To learn more about some of our options, and to read a little more about Jennifer and the many other talented artists and craftsmen who are part of our design family, be sure to visit the new CUSTOMIZE section of our website.