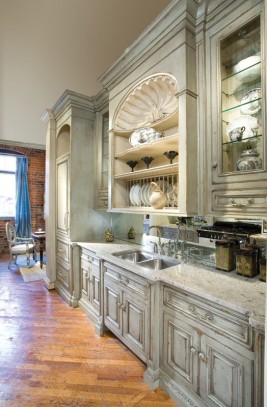 Our design team has found a way to bring a touch of casual European elegance to even the smallest kitchen space. Our galley kitchen design, shown here, effortlessly blends form and function.
The galley kitchen style has come a long way from the first mass –produced galley kitchen design that first made its debut in 1926 in a Frankfurt housing development. Designs like ours still focus on the core pupose of the kitchen – maximum use, minimum space. But we've also worked to bring a touch of grandeur to the area too.
Meticulously hand-styled finishes with lighter tones, mirror backsplashes and tetures help visually open up the space. And, integrated refrigeration , dishwasher and other cabinetry create rich looks while creatively hiding appliances.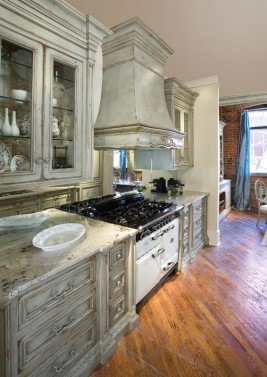 And, many of the same features we use in larger designs – like range hoods and curios – blend effortlessly into this smaller space. We'd welcome the opportunity to help you create a kitchen that conforms to your specific space needs and design sensibilities. To learn more about our custom options, contact us today.