"The first part of the process in building your dream home is finding the perfect place," says Gwen. "I wanted the convenience of an urban setting, but also wanted lots of tree-lined streets and a true neighborhood feel. I found it in beautiful Vienna, Virginia."
SAGE, Gwen's thriving interior design business in the Fairfax County area of Virginia, attracts an affluent clientele who looks to her for help on a wide array of projects – from single rooms to complete home design.
"My home is a classic DC Bungalow, impeccably designed on the outside and beautifully furnished on the inside with many extraordinary pieces from Habersham Home," adds Gwen.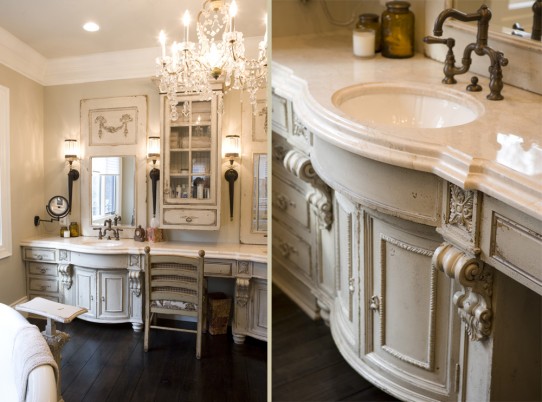 "The word 'Home' was key in my mind," she says. "The interior called for many of Habersham's grand scale pieces, but the overall feel is warm and welcoming. This line really lets you express your own sense of style in every room."
"I know looks, textures, color palettes and what pieces match personalities," Gwen says. "Habersham is unequaled in their offerings. You can truly customize each piece according to your tastes and lifestyle. I look to them for creating the perfect pieces for every space. For our home and for my client's."
Gwen made sure the kitchen took center stage. "This is the heart of my home," she says "I have a 19- year old son and a big old Bernese Mountain Dog. Our kitchen and family room are the hub of activity."
Gwen worked closely with Habersham to create a Grand European, casually elegant, working kitchen. "It's absolutely ideal for entertaining, relaxing and unwinding. We created two islands, topped with richly textured Jerusalem stone and embedded with fossils. That is uniquely us."
Habersham completely understands "focal points" and personal touches. A perfect example is the hand-painted Venetian Hearth range hood design flanked on either side with curio cabinets framed with antique glass.
"As I worked through the interior design of my new home, I knew that Habersham would be my partner in creating our lifestyle," says Gwen. "Their tastes and talent match mine, perfectly. At the end of the day, we all love coming back to our Habersham Home."