Congratulations to Julie Mifsud, principal, Julie Mifsud Interior Design! Her Habersham kitchen, shown here, was among the top winners in the 2013 National Kitchen and Bath Association (NKBA) Northern California Design Competition. The design took third place in the Large Kitchen category.
We wrote about her lovely design several months ago and are reposting some of the story here in honor of her fabulous win!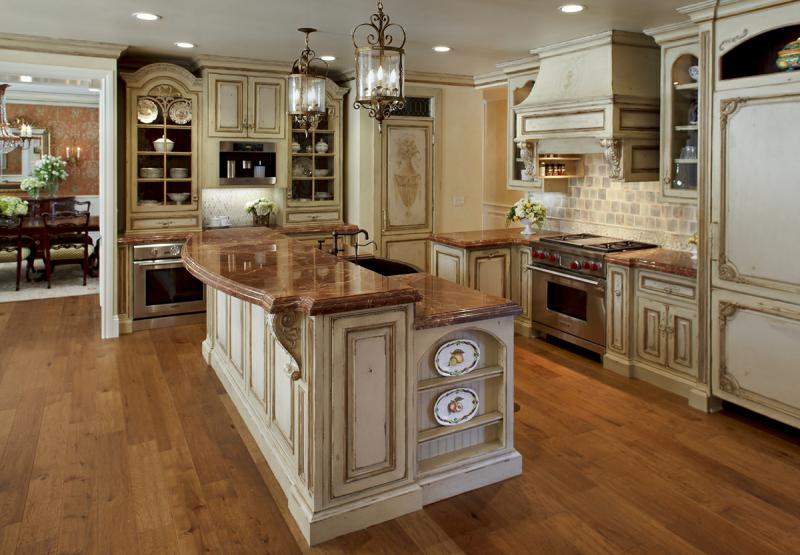 For Julie Mifsud, no design job is too small. It's a business philosophy that's served her well as she's built her expansive design business and its loyal client base, which includes some of the Bay area's biggest personalities.
It's also what put her in touch with Habersham. At the time, a potential client contacted her to get her thoughts on a Wolfe Range with red knobs that he was thinking about installing in his kitchen.
She drove an hour and forty-five minutes to his home to discuss the range selection. During the meeting she asked her client a lot of questions to learn more about his lifestyle, his design tastes and his hopes for the kitchen itself. Her client lived alone but Julie soon learned that his home would quickly fill up with grandchildren, family and friends during the holidays. She also learned that the kitchen was truly the heart of this home – where everyone gathered.
"As we spoke about ideas for the kitchen beyond the range, I learned that he had always wanted a space that captured an Old World look and feel reminiscent of his European grandmother's own kitchen – aged looks, meticulous detailing, and a warm and welcoming atmosphere," says Julie. " And, he wanted a kitchen that would effectively and efficiently serve his needs when he was home alone, but could also easily accommodate the extended family when they came to visit."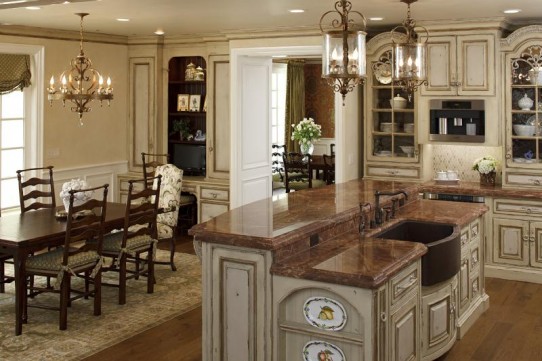 With its hand-finished designs, Old World influences and versatile custom cabinetry capabilities, Julie thought Habersham offered the perfect design solution. She showed her client Habersham's kitchen and bath portfolio and he agreed that Habersham had the look he wanted. Together with her contractor, Jeff Nelms, Nelms Construction, Habersham Sales Representative Jim Solada and the Habersham custom cabinetry team, Julie began working on a project that would grow from that single range to include a complete kitchen and bulter's pantry redesign, guest bath cabinetry and design solutions for other rooms in the home as well.
Among her client's key requests was to have a space where he could prepare his coffee while watching stock market reports on TV.
So Julie designed what she likes to call the "coffee bar", complete with a Miele coffee station above and a Sharp microwave drawer below. She housed them between two Habersham curio cabinets and made sure the area offered a clear sight line to the TV. "The client loved the curios as he felt they really had a richly detailed, antique 'furniture' look."
For the kitchen island, she and her client choose a Rohl copper bow front sink. This design inspired Julie to carry out the curved design on both the front and back sides of the spacious island. The soft, muted tones of the sink and the textural hues and thickness of the granite provide a rich complement to Habersham's Sandemar finish with gold accenting.
"My client has an ongoing theme of understated elegance that flows throughout the home," she adds. "He wanted moldings, granite edges and other design elements that felt substantial while staying true to this theme. He really made excellent choices on all these items."
Julie carefully studied the placement of every detail. For the island lighting, she chose two lanterns and spaced them in such a way that they would not obscure the view of Habersham's hand-painted, wall-mount range hood.
The hand-painted motif found on the range hood is also carried out on a pantry door. Julie chose to change out the basic pantry door to a custom panel door that reflected the overall look of the rest of the kitchen cabinetry. She added a custom lead glass window above it. To complete the look, she chose the same handle that appears on the integrated refrigeration cabinetry concealing a Thermador on the other side of the room. The overall kitchen cabinetry design calls upon other integrated cabinetry to creatively hide a dishwasher and other appliances too.
In addition to the kitchen, Julie worked with Habersham to design a Butler's Pantry which reflects the same look and style of the kitchen. She also chose Habersham to create a home office space in the kitchen as well. "Using Habersham helped tie the office into the overall space, so it doesn't feel separate," she explained.