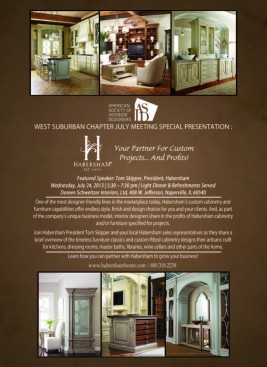 Last month, Habersham President Tom Skipper and our Illinois sales representatives hosted a special presentation for the West Suburban Illinois Chapter titled "Your Partner For Custom Projects…and Profits." The meeting was held at Doreen Schweitzer Interiors in Naperville, IL

As one of the most designer-friendly lines in the marketplace today, our custom cabinetry and furniture capabilities offer endless style, finish and design choices for designers and their clients.
During the presentation, Tom shared a brief overview of the timeless furniture classics and custom-fitted cabinetry designs our artisans craft for kitchens, dressing rooms, master baths, libraries, wine cellars and other parts of the home.
We would welcome the opportunity to speak at other association and chapter meetings to share ways we can partner with you to grow your business! You can contact us at haber4@habersham.net for more information.