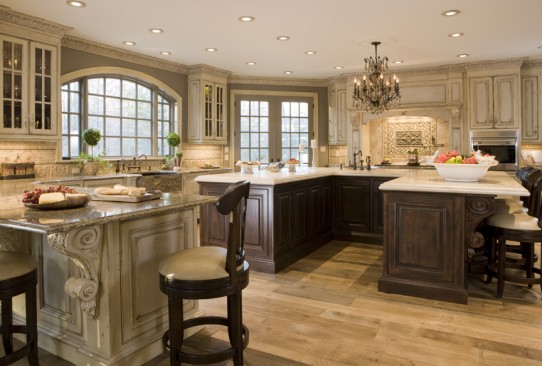 "I wanted a beautiful new room that just happened to be a totally functional kitchen," said the homeowner to her designer, Haleh Niroo, Haleh Design, Inc. Sometimes renovations can be tougher than starting from scratch. But Haleh understood exactly what her clients wanted. The homeowners both agreed that "working with Haleh was like no work at all."
Taking care of three children and managing busy medical and surgical practices left little time in their demanding schedules to begin renovating parts of their lovely 14-year-old home. The goal? To begin transitioning some of the home's beautiful contemporary interiors to reflect styles that were more classical in nature.

While flipping through the pages of Home & Design magazine, the homeowner saw a feature article about the home of leading Maryland luxury interior designer Haleh Niroo. One look at the Habersham furnishings that Haleh had chosen for her own home, and the homeowner knew she had found her designer.
"I knew right away that Habersham was the perfect choice for this client's lifestyle," explains Haleh. "The attention to detail – meticulous handwork, the design, the fabulous finishes – all came together to exude the old world feeling and look they wanted to bring into the kitchen."
Using the Habersham line, Haleh and her team members, Theresa Hamilton and Eunjin Kim, worked on a number of designs until they hit upon the perfect one.
"Haleh Design provided us with countless different layout options and had no problem changing things as we went along, " adds the homeowner. "Everything went so smoothly and her renderings were so perfectly accurate, that we knew exactly what to expect before we started the renovation."
Meeting and exceeding client expectations are standard practice for Haleh Niroo. Working with Habersham, she created a stunning kitchen design where form truly flatters function. Island and peninsula designs provide needed prep space for the client, an avid cook. A casually elegant, unique hearth range hood design is complemented by plentiful Habersham cabinetry in richly contrasting dark and light hand-styled finishes. To complete the look, meticulously detailed crown molding and corbels add just the perfect touch of understated grandeur.
"A kitchen for a feast with friends or an intimate family gathering is what Habersham and Haleh brought to this home that we love with all our hearts," says the homeowner.