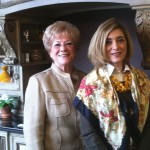 S DeCenzo Designs has built a reputation over its nearly 50-year year history for creating stunning kitchen, bath and home environments for a discriminating clientele. Located just one hour south of Manhattan in Monmouth County, the stunning 4000-square-foot showroom has become a magnet for residential and commercial clients alike who are seeking the best in custom design, quality craftsmanship and unrivaled customer service.
"We pride ourselves on making our customers' design dreams a reality," explains Mary DeCenzo-Hazan who helps direct the business that her mother, Sana DeCenzo, founded. Together, Mary and Sana work with customers, listening carefully to their input and using it to create fabulous, functional designs that perfectly reflect the client's personality and lifestyle.
The design process starts when clients want into the beautiful showroom space. Featuring some of the industry's premier lines, the two story environment offers a number of kitchen, bath and other cabinetry vignettes.
Front and center is Habersham with a kitchen display that brings a stunning kitchen island together with range hood, curio and cabinetry designs. Showcasing Habersham's meticulous detailing, versatile style options and hand-styled finishes, the design gives customers a glimpse into the possibilities the line offers.
"We are so proud of this display," Mary explains. "Nobody does it like Habersham and this display certainly communicates that."
To learn more about S DeCenzo Designs, visit www.sddesign.com, visit their showroom at 2 Fairview Ave, Little Silver, NJ 07739 or call 732.842.7393