Habersham welcomed a number of new additions to its American Treasures ® and Biltmore ® Chateau Reserve Collections during the Spring 2012 High Point Market. Among them: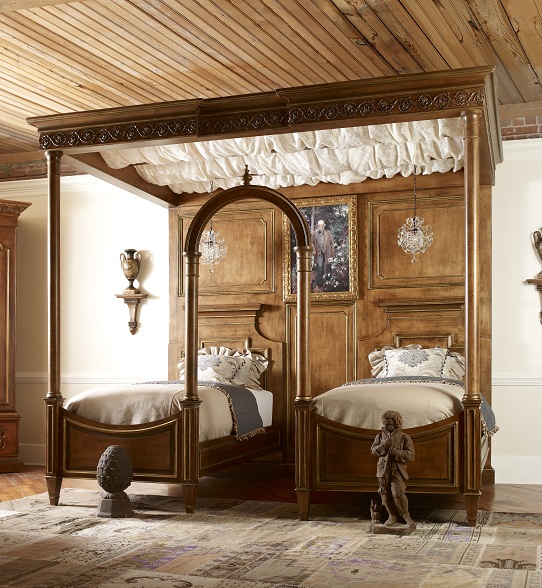 BILTMORE CORNELIA'S CLOISTER BED — This piece was far and away the "Hit of High Point ." The reactions — gasps of surprise and delight from dealers and designers — as they came into the room where the piece was displayed during market, were fun to watch.
The newest addition to Habersham's licensed Biltmore ® Chateau Reserve Collection, this twin bed design was inspired by the Sheraton Room at Biltmore House in Asheville, NC. The Cloister Bed is neoclassical in style and shares a headboard and canopy, creating a large scale image of grandeur. The wood is indicative of early 19th century architectural cloisters, in which covered walks in monasteries, colleges and cathedrals had one walled side and one open colonnade. The piece is named for Cornelia Vanderbilt, only child of Biltmore's visionary creator George Vanderbilt and his wife Edith. Cornelia grew up at Biltmore and was truly, as the estate's website describes, a "princess of a 250-room castle and its 8000-acre kingdom."
In addition to this addition to the Biltmore ® group, we also added a number of new designs to our American Treasures ® Collection of copyrighted furniture designs. American Treasures® pieces take their inspiration from classic styles that have been updated and simplified. Adding to their appeal, American Treasures® pieces are customizable. New designs include
NASSAU HOME THEATRE With this piece, like others in the collection, Habersham Vice President of Design Robert Williams has worked to mix classic lines with modern influences to create what he calls "livable modern" looks. Effectively bridging the gap between these two styles, this versatile design offers a wonderful entertainment option. As with all designs in the American Treasures collection, this piece is completely customizable so customers can specify sizes and finish options.
ATELIER DISPLAY CABINET — This particular design brings classic lines together with a mirror back panel, glass door and adjustable shelves to create a casually elegant, versatile accent that can blend seamlessly into any room and décor style.
HARMONY END TABLE –An ideal beside or end table option, this simple , clean design promises to blend into any décor. Added features like an ipod charger and other accents also available.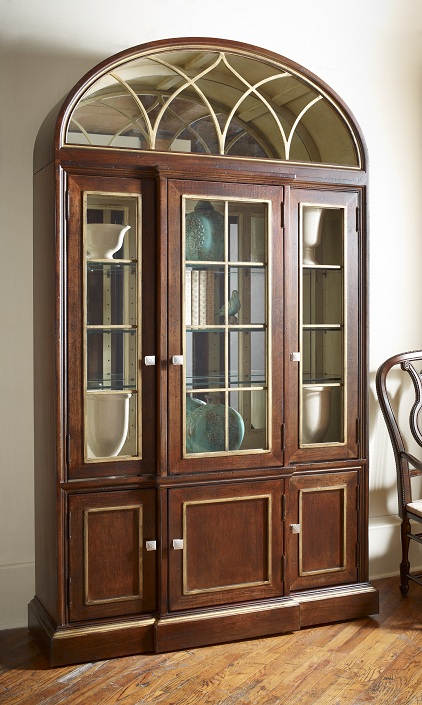 GUINEVERE BREAKFRONT – Blurring the lines of classical and contemporary, this design offers a wonderful showpiece for china, crystal and other treasured accents. The breakfront's arched top features a glass front with curved wooden design elements that add drama and elegance. Clean lines and a hand-styled finish complete the look.
CORONA BOOKCASE WITH MIRRORED BACK – Featuring a mirrored back, this sleek bookcase design can add depth and dimension to a room. Curved wood accents come together with clean, classic lines to create a versatile, transitional showcase for books and accessories.
URBAN HOME THEATRE – As fabulous as it is functional, this design offers a wonderful home entertainment option. Classically inspired, this piece blends clean lines and architectural motifs with contemporary design elements to create a look that is at home in virtually any décor. Ample shelving and drawer space provides room to display accessories and to store DVDs, CDs, books and more.
MODERN COFFEE TABLE Available in square and rectangular styles, this decidedly modern table design can lend a touch of casual, contemporary elegance to any space.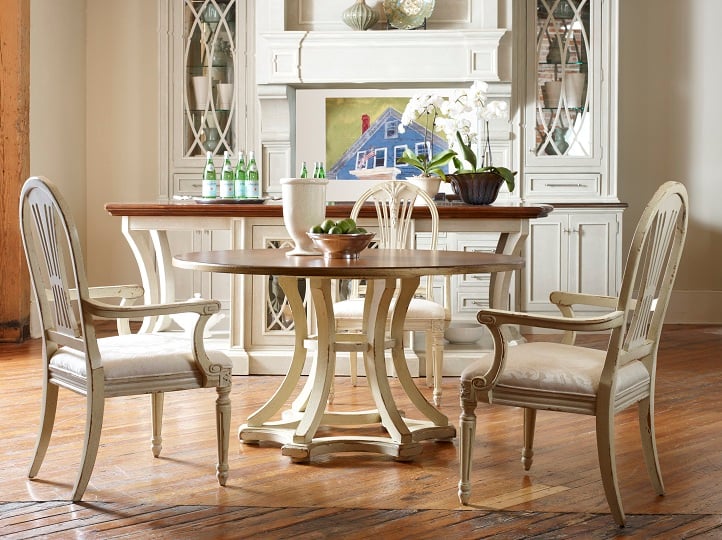 DELRAY ROUND TABLE – Completely customizable, this round table can dress up any dining environment with its rich blend of simple styling and casual elegance. Blending classic lines and modern influences, the detailed base provides the perfect foundation for the sleek round top.
PENCIL POST BED – A design style that has been popular for centuries, the pencil post bed is versatile enough to enhance any décor – from casual to contemporary. Available in king, queen and California king sizes, this simple, yet sumptuous style comes in high or low pencil post designs.
LOFT AND COSMOPOLITAN CHAIRS – Available in side and arm styles, these transitional designs can lend a contemporary aesthetic to any dining environment. Cosmopolitan style (left), Loft style (right).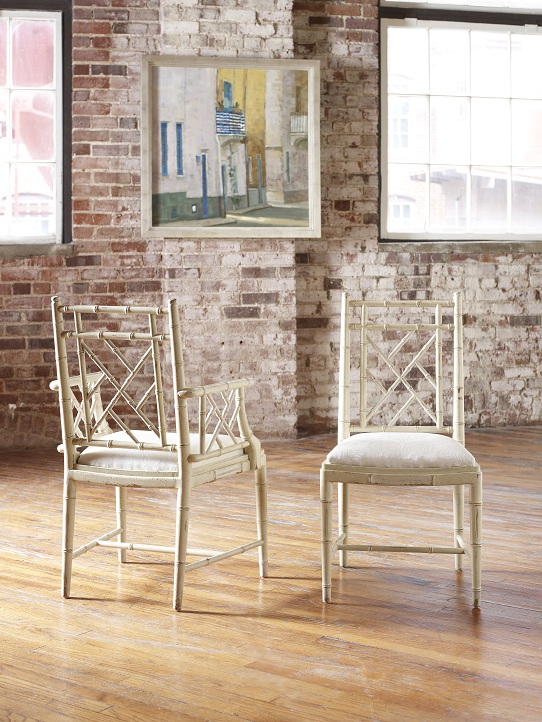 REGENCY CHAIRS – Inspired by the slender, simple and elegant design lines that defined Regency neoclassic furniture designs of the 19th century, this lovely chair is available in side and arm styles.
REGAL SIDE & ARM CHAIRS — Treat your guests like royalty with these lovely chair designs. Available in side and arm styles, these chairs offer a rich blend of classical style and casual elegance.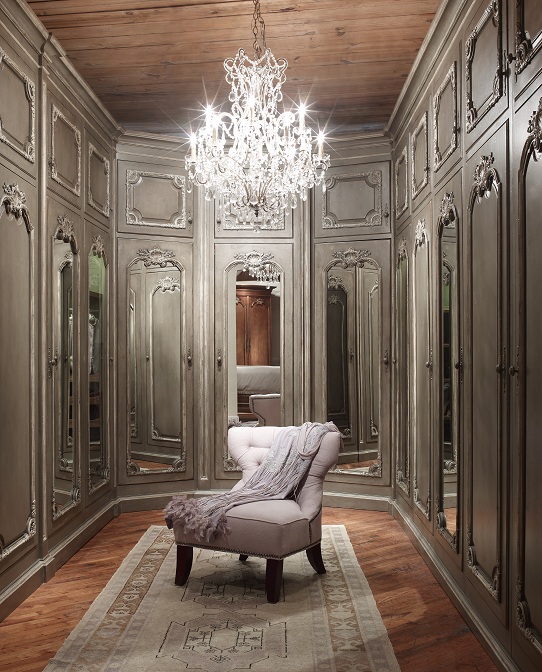 DELIGHTFUL DRESSING ROOM DESIGNS – During Market we also showcased the myriad custom capabilities we're utilizing in today's custom dressing room designs, including: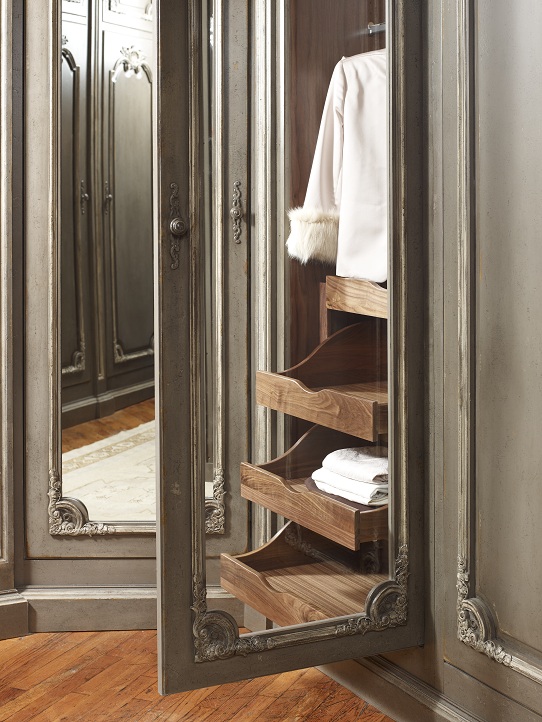 DRESSING ROOM PULL OUT DRAWERS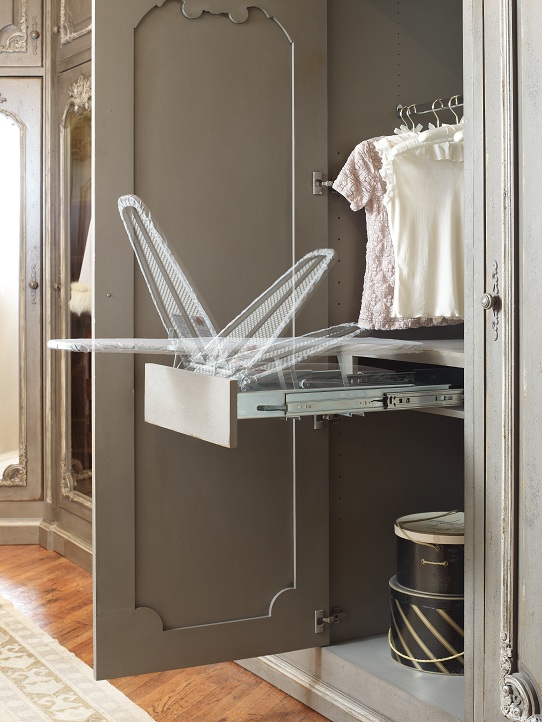 DRESSING ROOM IRONING BOARD ACCESSORY
DRESSING ROOM TIE & BELT ORGANIZER
DRESSING ROOM CUSTOM CEDAR CLOSET
DRESSING ROOM SHOE CLOSET
GRAND KITCHEN CABINETRY – Transitional, clean lines and simply styling are among the highly requested looks we're receiving in cabinetry today. This design was featured in our showroom during market to showcase the versatile custom capabilities and storage features we can offer.
HABERSHAM GALLEY KITCHEN — Offering a grand design for smaller spaces, our Galley Kitchen style is a versatile option for today's home. Shown with range hood and countertops by Bastille Metal Works, makers of zinc and pewter counter and bartops.
HABERSHAM GALLEY KITCHEN DROP DOWN SPICE RACK — Shown with counter top by Bastille Metal Works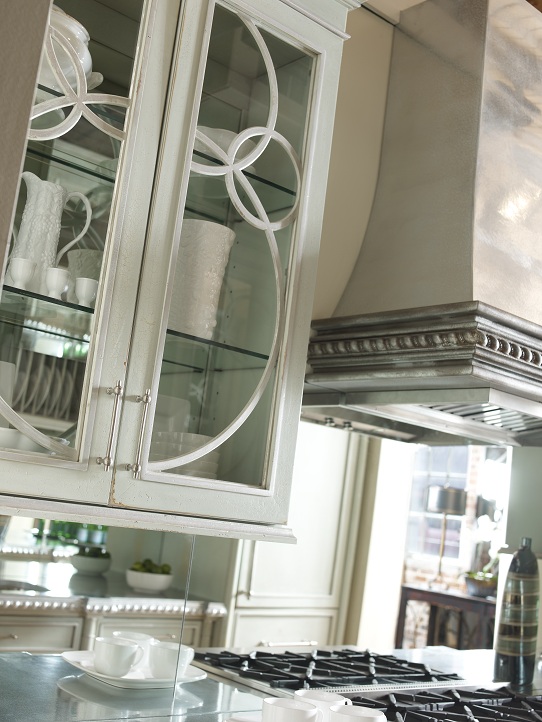 HABERSHAM GALLEY KITCHEN CURIO GLASS DOOR FRONT — Shown with counter and range hood by Bastille Metal Works.