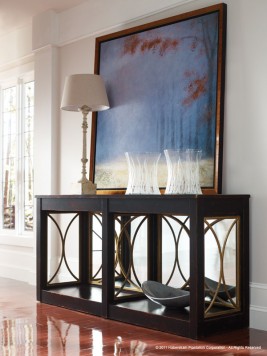 The Spring High Point Market opens this Saturday, April 2, 2011 and we've got many new designs to show our dealer and designer trade customers. Headlining the intros featured in our Market Square showroom – space 142 — are the newest additions to our popular American Treasures ® Collection of copyrighted furniture designs.
Among them, the American Treasures ® Chelsea Sideboard/Sofa Table. With a mirrored back and circular pattern motif, this transitional design is sure to blend into any interior – from contemporary to casual.
We'll be previewing other new designs on our blog this week so check back regularly to get a sneak peek at the new designs. And let us know what you think!