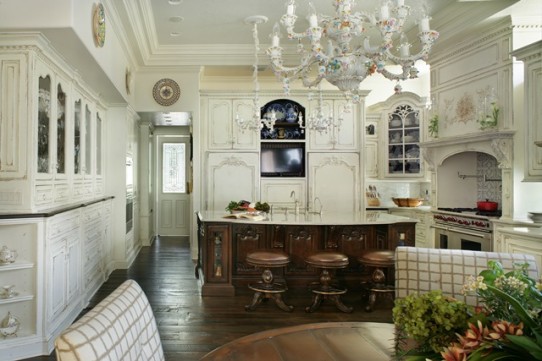 Accordingly to the 2016 U.S. Houzz Kitchen Survey, homeowners are renovating their kitchens to create "super kitchens" that not only serve multiple purposes but also incorporate features, functions and decor traditionally associated with other rooms, dramatically blurring the lines between the kitchen and other living spaces.
As the press release goes on to explain:
The survey of more than 2,400 U.S. homeowners using Houzz who are in the midst of, are planning, or recently completed a kitchen renovation project found that these kitchens go far beyond cooking and baking, with 69 percent using the space for eating and dining, and nearly half for entertaining (49 percent) and socializing (43 percent). In addition, more than a quarter of renovating homeowners use their kitchen as a homework space (25 percent), one in five watch TV (19 percent), and 14 percent read. As the hub of such activity, nearly two-thirds of homeowners spend more than three hours a day in their kitchens (60 percent).
Further blurring the lines between the functional and living areas of their homes, nearly half of renovating homeowners are making their kitchens more open to other living spaces (48 percent), with 46 percent of kitchens completely open to other interior spaces post-renovation. One in five updated kitchens are also more open to the outdoors following their upgrades (18 percent).
This is certainly a trend we've watched emerge here at Habersham in recent years — and we've enjoyed working with many of our design clients to create kitchen spaces that are truly the heart of the home in every sense of the word. We'd love to help you design your own super kitchen, so contact us today. Let's get started!