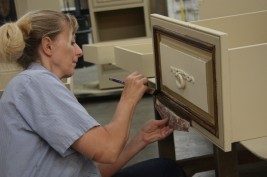 At Habersham, we believe that it's the fine details that truly bring our furniture and cabinetry to life. Our team of highly trained artisans and craftspeople work to make sure that every little detail plays a role in the overall look of the piece. That's especially true with our finishes.
To help tell our finish story, as well as the bigger story of the work and attention to detail that goes into each individual piece, we've launched a brand new section on our website called CUSTOMIZE. When you get to this section, you can click on "The Finishers" to meet some of our talented team members, like Vivian White, shown here, and read about how they work to create distinctive looks unlike anything else in the marketplace today.
Our customers can choose from the wide spectrum of textures and tones found within our own family of hand-styled signature finishes, including Connoisseur, Studio, Gallery and Essentials. Or, look to the vast palettes of Benjamin Moore ® and Sherwin-Williams ®, which collectively encompass more than 4,400 different colors. From aged, distressed influences to simpler, cleaner styles, our artists can create the look you seek using any color you desire.
So visit the new customize section of the website today to learn more.