[fusion_text]
Featured Designer: Kellie Burke, Kellie Burke Interiors —
For award-winning designer Kellie Burke, bringing design dreams to life is an integral part of her philosophy.
"I work to reflect my unique dream, and that of my clients, not a matching, store bought look," she explains.
When it came to her own home, Habersham custom cabinetry gave her the flexibility and design freedom she needed to bring that dream to life. Twice, in fact…. Just three months after completing her first Habersham kitchen, she and her family returned from a trip to find that a burst pipe had completely flooded the home –resulting in collapsed ceilings and destroying the new kitchen.
Turning this calamity into an opportunity, Kellie soon embarked on a complete home renovation.
"I decided to make our home more fun, more open, " she says, pointing to the vaulted ceiling and large, Old World windows.
To help communicate this style, and add an industrial aesthetic as well, she even found huge, vintage beams that she was able to hollow out and apply over the more mundane Microlam support beams for the vaulted ceiling.
"The home is a French Normandy Style so I wanted the kitchen to reflect that Old World, over-the-top style – to really feel as if it were built back then — with a glam, glitter, 'Newport mansion' feel."
For her kitchen island, she wanted to blend old and new elements to help bring the transitional, industrial feel to the space.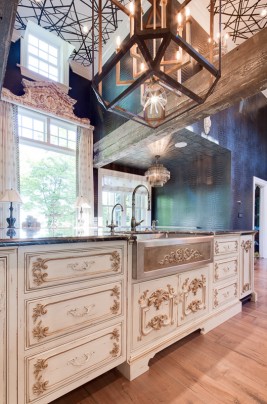 To achieve this, she chose a modern chevron pattern to grace each end of the island – which comes together with its grand scale, bold, ornate legs and meticulous decorative accents for a dramatic effect.
As fabulous as it is functional, the island has plentiful and practical storage features and options.
Among them – Legrand electrical outlets, cabinets to hide paper towels and kitchen supplies, drawers, concealed trash compartments, dishwasher and a pop-up Vitamix for her husband to make his breakfast shakes.
Kellie chose a custom-made farm sink for the island center and worked closely with the Habersham design team to see that the cabinetry molding, corbels and decorative elements offered a nice complement.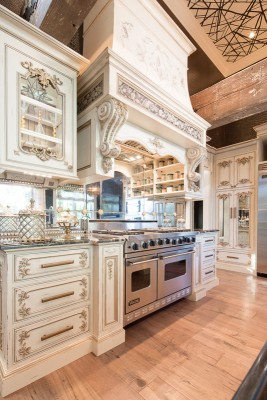 A Habersham wall mount range hood with graceful, curving corbels sits over the Viking range – complete with interior spice rack.
Breaking with tradition, Kellie used black and white tones for the decorative, hand-painted pattern along the front and sides of the hood to add to the space's industrial flair.
Curios, pilasters and drawers on either side of the range house cutting boards, pots , glassware and serving pieces.
The industrial motif is also reflected in Kellie's treatment of her Viking refrigerator.
Opting not to conceal its stainless steel front, she added an "armoire top" to give it a furniture feel while playing off the industrial look , too.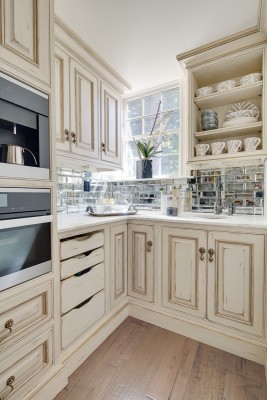 To maintain symmetry with the double ovens on one side of the refrigerator, she chose mirrored doors for the cabinets on the other side.
"The antique mirror complements the stainless refrigerator while showing off the other side of the range hood—creating a great effect," she adds.
For additional storage, the kitchen has a walk in pantry complete with Miele coffee maker and steam oven.
A backsplash of antique mirror subway tile comes together with the hand-styled finish of the cabinetry to carry through the same Old World, industrial ambiance seen in the rest of the kitchen.
Kellie also chose to wrap the entrance doors and wall corners with Habersham custom cabinetry – a treatment shown here with the arches found in her study leading to the kitchen.

"This is where 'KBI' happens," she laughs, explaining that much of her design work and many of her ideas come when she's working in this space.
"I'm all about creating dream spaces that are not cookie-cutter or easily copied. I want to be able to reflect my unique look and style ," Kellie says. "Habersham's finishes are amazing and their attention to detail just can't be found anywhere else. With Habersham custom cabinetry, I can dream up a design and make it happen."[/fusion_text]