"Habersham offers incredibly luxurious, elegant looks that exude a level of casual elegance at the same time."
Featured Designer: Susan Spath, Owner | Principal Interior Designer, Kern & Co.
It is often said "lightning never strikes the same place twice." San Diego based interior designer Susan Spath, however, proved an exception to this rule when she was called in to work on a Rancho Santa
Fe, CA, residence. Knowing she had overseen a complete renovation of the property a number of years prior, the new owners looked to partner with her to shape the vision they had for their new home, having been impressed with the work and style she had initially imbued the property with.
"The couple knew I had been the designer for the previous owners, so they came into our store to talk about a total renovation. I took them to my own home, which I use as a showroom, to give them a true glimpse of how I envision furniture, Habersham cabinetry, accessories and fabrics working together in a real setting. They loved what they saw and wanted to capture some of the same bright, light looks in their new home."
The home, a 7,000-plus- square-foot estate in Rancho Santa Fe's Rancho Valencia Country Club, is "a jewel," says Susan.
"Times change and the previous design called upon darker woods and heavier furnishings. So I wanted to update the look with lots of mirror, light finishes and an open floorplan that enhanced many of the design elements of the original home," she explained.
For the living room area, Susan kept the original chestnut parquet floors and magnificent ceiling beams. She chose Habersham custom cabinetry to rejuvenate the fireplace and accompanying bookcases. Using a theme she carried throughout the home, she worked to open up the space with grand, full-length windows, doors and modern lighting.
Working with existing spaces and designs, she created custom templates with the Habersham design team to bring fresh new looks to areas like a built-in buffet. Circular geometric designs on this custom piece, as well as a built-in cabinet in the sitting area by the piano, add a subtle contemporary aesthetic. Together with the lighter, hand- styled Habersham finishes and clear mirror, these elements add a lovely, bright and airy look to the space.
"This is very much a 'couple's home'," she explains. "It has lots of nooks, crannies and sitting areas. Rather than many large, separate rooms, it's really more like one large, open floorplan with spaces that essentially fall off of each other and flow throughout the home."
Further enhancing the flow, Susan used the same Habersham finish throughout all the spaces in the home, except the master bath area.
"As you go from one area to the next, the finish ties it all together. It's the same core finish, but I've added nuances – hints of gold, shadow, other tones –in each space to give a slightly different look."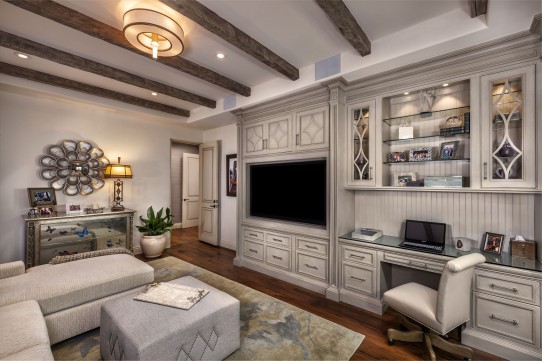 For the bar area Susan chose sleek pendant lighting, an elegant antique foot rest and a striking Mother of Pearl back splash – offering a perfect complement to the light finish on the Habersham bar cabinetry.
Her client was hoping that a study could serve as her own personal escape. But she also wanted a place where her grandchildren could join her to watch TV.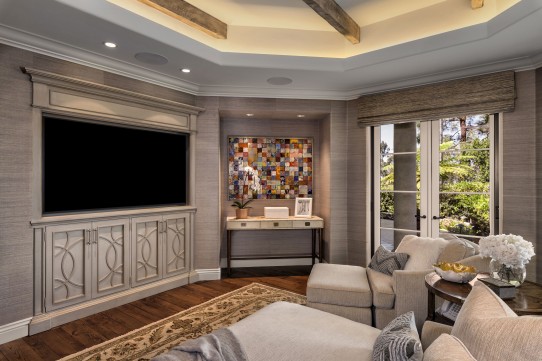 Susan worked with the Habersham team to create a home office that complemented the rest of the home – continuing the use of the soft, light finish.
She also carried out the same circular pattern on cabinetry surrounding the large, flatscreen TV. Again, floor to ceiling windows and an open layout exude a lovely, open feel.
The study also includes a two-way fireplace—with the other side facing into the Master suite.
A calming, peaceful space, this section of the home is awash in natural light from wonderful windows accentuated by soft subtle Habersham finishes.
While building out the study, Susan was also able to open up space for his bathroom, which was originally very small.
Here she called upon a clean, charcoal finish and utilized grates from one of the home's original skylights.
"The charcoal finish is very sharp and clear – and reflects my client's tastes perfectly," says Susan.
"It blends well with the grey tones of the statuary marble floor and cool graphics he loves, which are also featured in the space."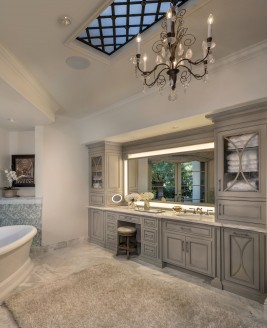 For her bath, Susan continued the soft, subtle finish tones and incorporated a lovely skylight as well to create a soothing, relaxed atmosphere.
"This is just such a great house," she adds. "Grand old beams, wonderful floors, so many other lovely elements and special touches. I didn't want to lose any of that – I wanted to re-orientate it, incorporate many of the original elements and finesse it."
Issues of lightning aside, that is exactly what she did!