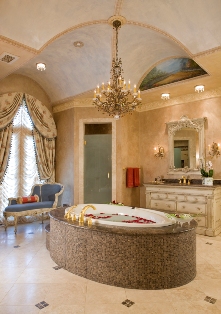 According to the National Kitchen and Bath Association (NKBA), large freestanding tubs are taking front and center in bathroom design. One of many trends identified in the organization's 2011 NKBA Design Competition, freestanding tubs today can be considered almost the norm, creating a focal point of near sculptural quality. As NKBA reported in its press release outlining winners of the 2011 competition, "Rounded, rectangular, and angled tubs are specified as an artistic accent that also provides a soothing soak. Whether situated on stones, wood flooring, or a low stage of sorts, the freestanding soaking tub is an integral part of many master or main bathrooms."
This is certainly a trend we're seeing here at Habersham too. Take, for example, this lovely bath design by Haleh Niroo, Haleh Design, Potomac, MD. Haleh chose a freestanding tub and then surrounded it with Habersham furniture and custom cabinetry.
"Your home should envelop you in luxury every time you step through the door. That's especially true with the master bath," says Haleh, pointing to the Habersham custom vanity and mirror designs she chose for the space. If you look in the mirror you'll get a glimpse of the Habersham Bibilotheque that is also part of the master suite.
"I believe that beauty is in the details," adds Haleh, explaining how Habersham's finishes and custom designs provided the perfect complement to the master bath's chandelier and ceiling mural. "I worked very closely with my client to understand exactly how she wanted to use and enjoy this space."
Haleh's project is featured in more detail on our website so visit the homepage for the full story.