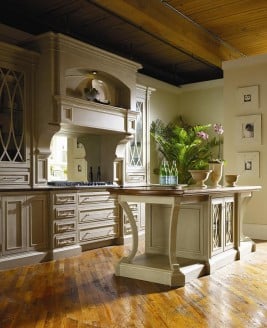 More than 350 National Kitchen & Bath Association member designers took part in the 2012 National Kitchen and Bath Association (NKBA) Design Trends Survey to cite the materials, product types, and styles that they've incorporated into their kitchen and bath designs over the final three months of 2011. While broad trends won't be evident in every local market, the survey called out a number of overall trends for kitchens and baths across the United States and Canada. Among them:
Transitional over Traditional
For the first time since the NKBA began tracking annual design trends, traditional is no longer the most popular type of design. In both the kitchen and the bathroom, transitional is now the most common style. While the traditional style has consistently been used by roughly three quarters of NKBA member designers in both the kitchen and the bath, that figure fell to 58% in kitchens and 59% in bathrooms this year.
These figures come in just below the transitional style, which is a blend of traditional and contemporary, typified by lines that are simpler than traditional, but a bit more elaborate than contemporary in order to create a modern classic look. Contemporary is the next most common style, up 5% to 52% in kitchens and up 10% to 53% in bathrooms from a year ago. Shaker, arts & crafts, and cottage remain the next most frequently used styles.
Here at Habersham we're constantly fine-tuning our custom cabinetry capabilities to create kitchen and bath designs that truly reflect the design tastes and styles of our customers. So whether you're looking for transitional or traditional styles, we can help you create the space of your dreams. Contact us today!