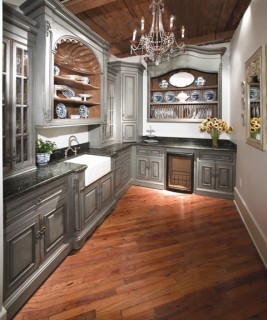 We continue to see growing demand for pantry cabinetry — especially butler's pantry designs — in many of the kitchen projects we're working on today. According to the National Kitchen & Bath Association (NKBA), overall demand for pantries is on the rise. In a recent press release highlighting the latest standout trends from its 2011 NKBA Design Competition, the association reported, " With the introduction of greater amounts of open wall space, and less in the way of wall cabinets, the need for a larger separate pantry has been prompted. Open plan kitchens are requiring alternative pantry and storage solutions."
Whether it's a separate walk-in pantry or a butler's pantry, this space has definitely evolved . Gone are the days when the butler's pantry was merely for storing china and serving pieces. Today, this versatile and functional space has moved to the center of the party – as a key area for entertaining.
Custom designs like this French Country style butler's pantry are more than up to the task. Embodying sophistication and style, this design truly captures the spirit of those grand, spacious, casual and comfortable homes on the French countryside. Eloquent, curved design lines and soft, feminine hand-finished looks frame plate racks, wine cooler, curios, display shelves, sink , ample work surfaces and storage areas to complete the look. To see more of our custom butler's pantry designs, click here.