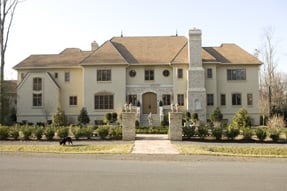 When Laura and Stephen Robinson began designing their home in Great Falls, they had two goals in mind. First, the home was to serve as a showcase for the wide range of capabilities and custom features that Stephen's business, Chesapeake Construction Company, could provide. The second was to create an environment conducive to large-scale entertaining for the many fundraising events the philanthropic couple hosts throughout the year.
"As I designed the home", says Stephen, "I knew we needed large, open spaces that could be used to serve dinner from 30 to 300. But at the same time, the same space was to operate as our private home, so the challenge was to keep it functional, yet warm. The layout of the rooms had to be well thought through, and we needed a furniture company that understood our challenge. The grand scale of the Habersham pieces with their old world feel helped to add warmth and personality to the home's large spaces."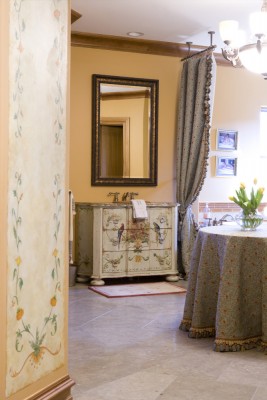 As the interior designer, Laura appreciates that Habersham has long been known for a fabulous color palette that lends itself to a wide array of decorating styles. "When you tell Habersham you want a kitchen that captures the spirit of the Tuscan Countryside with its warm gold and red tones, they can deliver," says Laura. In fact, much of this exquisite home's palette actually emanated from the Habersham pieces she selected for each room. For example, in the upstairs master suite, Laura relied on the delicate aviary motif of the Habersham Ashley Manor bed and vanities to create a space reflecting quiet Italian elegance. She drew on the colors in the artwork for the walls and fabrics, and even had her faux painter recreate the pattern depicted on the side panels of the vanities for the grand arch separating the master bedroom and bath. In the dining room, the soft finish on Habersham's grand Trouville breakfront enhanced the old world feel of the room with its fresco walls and silk chairs. And, the Belmont wall unit, with its sliding ladder, adds a substantial backdrop to the charm and beauty of the hearth room where a warm fire greets visitors to the home.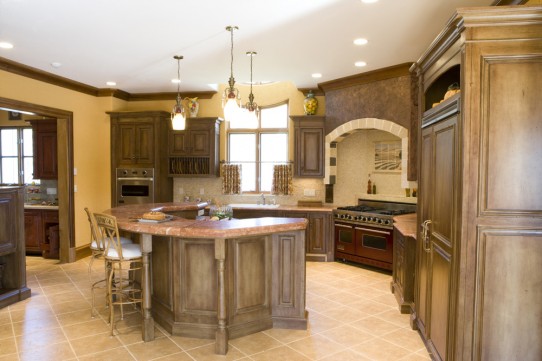 "When it's all said and done," said Laura, "I really left the outside design to my husband. But the inside belongs to Habersham."