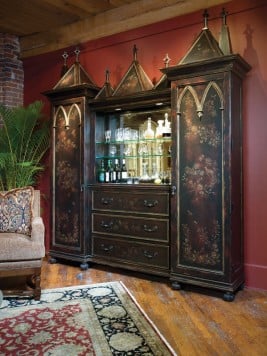 We introduced a new limited edition design during last month's High Point Market. Titled the "7 Gables Founder's Piece," production of the hand-painted and handcrafted design will be limited to 25 – each featuring a certificate of authenticity and a brass plaque engraved with the signature of Habersham Founder Joyce Eddy.
It's been more than 10 years since Habersham has launched a limited edition design. The 7 Gables Founder's Piece embodies our core company hallmarks – quality craftsmanship, creative reinterpretation of an antique, meticulous handwork, and innovative design.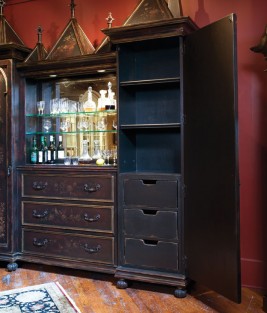 Taking its inspiration from an 18th century antique linen press, the piece , shown here, brings a dramatic gabled style together with meticulously hand-painted Chinoiserie accents, and an antiqued mirror at its center. Click here to see more of our furniture designs.