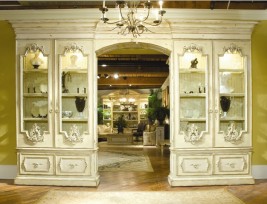 Like the gorgeous three-mile Approach Road leading to Biltmore, this hand-finished and styled design surely sets the tone for what lies beyond. Part of the Biltmore™ Chateau Reserve Collection, the Biltmore Grand Approach Entryway takes its inspiration from the architectural elements of the famed North Carolina estate and invites you to bring a touch of its renowned beauty, grandeur and hospitality into your own home.
With curios on either side offering lights, adjustable wood framed glass shelves and drawers, the Biltmore Grand Approach Entryway can be customized to meet your space and style needs.
You can also choose from the wide spectrum of textures and tones found within our own family of hand-styled signature finishes, including Connoisseur, Studio, Gallery and Essentials — each offering distinctive looks created by trained artists using a series of techniques, tools and exacting standards. Or, look to the vast palettes of Benjamin Moore ® and Sherwin-Williams ®, which collectively encompass more than 4,400 different colors, to complete the design. From aged, distressed influences to simpler, cleaner styles, our artists can create the look you seek using any color you desire.
Contact us today to make your own grand entrance.