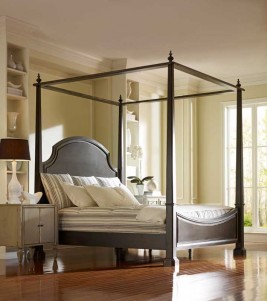 Create your own signature master suite with Habersham. You can choose from a rich palette of hand-styled finish options and a wide range of Habersham bed, chest, armoire and other accent pieces to create the looks that are distinctly yours.
Among the newest Habersham bed styles is the American Treasures Sea Island King Bed, shown here. One of many designs in the new Habersham American Treasures ® collection of copyrighted furniture designs, this particular bed is also available in queen size. Both sizes are also available without Testers.
With American Treasures, our design team has paid tribute to the American-made styles and influences that helped shape our company by reinterpreting them to create wonderful transitional designs that promise to blend seamlessly into any décor. To see more, visit the American Treasures section on our website.