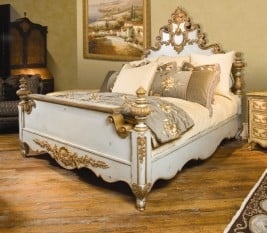 The master suite is a key focus for the design team this year. We're currently fine-tuning our master bath and dressing room custom cabinetry options and adding new furniture designs to the line too.
In the bed category, we're working on a number of new designs that we plan to showcase during the upcoming Spring High Point Market. Among them, the Elizabeth Bed, shown here, Inspired by architectural elements and design motifs found throughout Windsor Castle, this piece can add a regal touch to today's bedroom.
Spring Market will also welcome a new bed design for our licensed Claude Monet Collection. Inspired by the Giverny home of the Old Master, this piece brings warm hand-finishes together with soft design lines to reflect the casual elegance of the French countryside.
And while we're always working on new bed designs, remember that the Habersham line invites you to reflect your own personal style in your master suite. You can choose from a rich palette of hand-styled finish options and a wide range of bed, chest, armoire and other accent pieces to create the looks you seek. Click here to see some of our other bedroom designs.