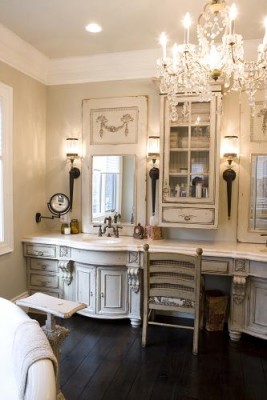 Whether your design taste is formal or casual, simple or sumptuous, we offer a wide range of versatile styles and lovely finishes to create a master bath environment that reflects your own sense of style.
At Habersham, our design and artisan team will work closely with you to create furniture and cabinetry designs that reflect your own design sensibilities. That's especially true with our master bath cabinetry designs. Calling upon rich hand-styled finishes, simple design lines and clever custom features, we can create lovely and practical designs for your master bath.
Elegant pull-out pilasters, spacious drawers that glide effortlessly in and out, and design elements inspired by Old World architecture are just a few of the many special features to choose from when creating your own private retreat.