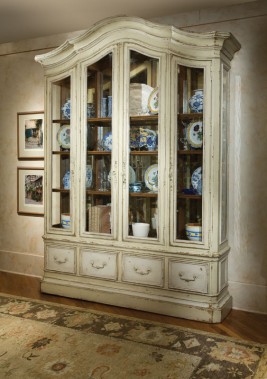 We launched our licensed Claude Monet Collection in 2000 with a series of designs inspired by the Impressionist's famed home in Giverny and the works he created during his time there. We have continued to add designs over the years reflecting the Giverny home, its furnishings, surroundings and other important works by Monet. A number of pieces in the collection have also been inspired by environments, and the stunning paintings they inspired, during the artist's extensive travels to the rugged Normandy Coast and parts of the Mediterranean during the late 1800s.
Among them, this month's featured product, our new Normandy Grand Monet Breakfront, shown here. As an artist, Monet traveled extensively to find visual inspiration and it was the Normandy Coast that seemed to provide a true touchstone for his life and work. Shown in the Sandemar Multicolor Studio finish, this grand breakfront offers an ideal showplace for treasured accents.
To see some of the other pieces in our Monet line, visit the Furniture section of our site.