Featured Designer: Michelle Murphy, MPM Interiors and DemiRyan.com —
"I like to start with one piece and then build around it," says Michelle Murphy, founder, creative director and lead designer, MPM Interiors and DemiRyan.com
It's an interior design process that has served her well over the years, especially with her latest project –the renovation of a 2,800-square-foot home in Chapel Hill, NC. The client approached Michelle after purchasing a home down the street from her grandchildren. She told Michelle that she wanted her new home to reflect her own personal style and the way she was feeling about her life right now – light, airy, happy.
"My client loves 'shabby chic' looks but she's definitely not shabby," laughs Michelle. "Her style is more shabby chic meets Chanel."


As the two went through Michelle's project book to discuss ideas, her client fell in love with a Habersham master closet design and wanted something similar for her home.
"I started with the master closet design, working with the Habersham design team to select light, lovely finishes and motifs that incorporate a French aesthetic," Michelle explains. "From there, I worked to carry out this look for the entire home – with hints of French elements and clean, airy looks flowing throughout – creating a spacious, peaceful atmosphere that could become my client's sanctuary."
Michelle chose Habersham's La Rochelle Hall Chest in a soft, hand-styled blue finish for the foyer. "The foyer opens to the living room which, in turn, opens to the hearth and dining rooms. I thought this piece offered a great introduction to Habersham –with the same blue tones and French elements that I chose to carry throughout the home and tie it all together," she explains.
For the living room, Michelle's client wanted a way to showcase her family photos and memories. "Built-ins would have been too intrusive for this space," Michelle says. "But Habersham's Belmont Library offered the perfect solution. It provided flexibility we wouldn't get from built-ins – allowing the option to change and rearrange if the need occurs down the road."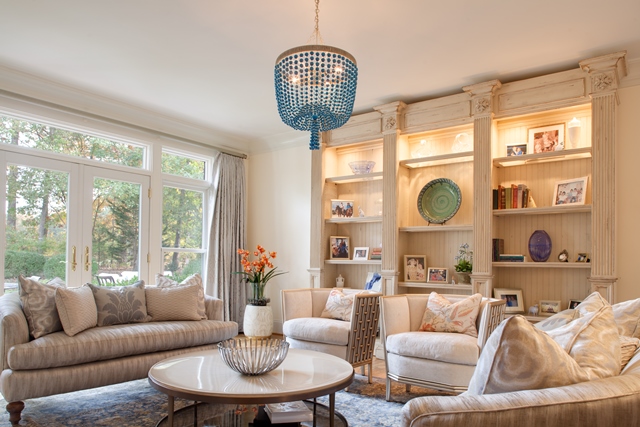 The other side of the living room features an antique mantle from Paris and 18th century tile work, so Michelle wanted something with a "wow factor" that also exuded a Parisian influence and antique feel.
"Habersham gave us the look we were after while still maintaining the light, airy elegance we wanted for this space. The line is just so versatile," Michelle adds.
To Michelle, it's very important that there is a sense of flow and cohesion as you move from room to room, rather than rooms that exist independently from one another. She kept that in mind when she chose a tin ceiling for the kitchen.
Searching for that " special something" that would effectively tie the master closet and the kitchen tin ceiling together, Michelle and her client came upon a fireplace mantel display in Habersham's showroom during a buying trip to the High Point Market. They knew they had their answer.
The fireplace mantel offered the perfect complement to Cape Fear Reclaimed Beams on the ceiling. For a personal touch, Michelle added shadow boxes and had her client's initials hand-painted along the mantel front.
For the dining room, Michelle chose Habersham's Jocelyn Dining Table and American Treasures Bahama Sideboard in elegant, silver leaf finishes. French blue tones, found throughout the home, are also found here on dining chairs and in stunning hand-painted wall murals reflecting areas of Chapel Hill, including Franklin Street, shown here.
"Most people think Habersham is a line that only works for grand scale homes. But this particular project showcases Habersham in a different light – showing how well it can work in a smaller space."
"With the exception of the Hearth room, this home's ceilings are 9' and Habersham works perfectly," Michelle says.